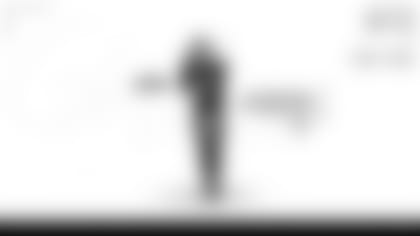 Jets WR Garrett Wilson was named the NFL's Pepsi Zero Sugar Rookie of the Week after his prolific receiving performance helped lift the Jets to a 31-10 victory at MetLife Stadium against Chicago in a Week 12 game last Sunday.
Wilson (6-0, 192) registered 5 receptions for 95 yards and 2 touchdowns – the first Jets rookie receiver to have 2 games with at least 2 receiving touchdowns in a season.
"He is still a young pup," HC Robert Saleh said. "There is still so much more meat on the bone for him as he continues to get reps and grow and learn. But his success is everyone's success because it's going to open it up for everyone else when teams try to take him away or do whatever they have to."
On the Jets 9-play, 75-yard opening scoring drive, Wilson caught 3 passes for 32 yards including an 8-yard touchdown toss from QB Mike White in his first start of the season. Wilson ran a quick out, drew a holding penalty and still created enough separation for the score.
"The defender was getting a little handsy, so I used my hands," Wilson said. He added: "I was glad I was able to win back outside, and Mike sat on the read a little bit and it was 7 points. A good way to start the game."
After 10 straight unanswered points by the Bears, White went back to Wilson, threading a pass between Bears on an inside route. Wilson then juked a defender and raced 37 yards after the catch to the end zone.
The 54-yard TD was the Jets second-longest scoring pass this season behind WR Corey Davis's 66-yard TD against Cleveland in Week 2. Wilson's second TD catch gave the Jets a 14-10 lead.
"I saw they were in man coverage, so the guy I needed to beat was the linebacker and I just felt as if I could get it over him and get it to Garrett," White said. "Garrett got open, which Garrett seems to do a lot, and then made the play when the ball was in his hand.s"
Wilson added: "I knew I had some room to cut back to the field and I wanted to make a play. We were losing at that point, and it was good to make a play and get back out in front."
Wilson joins Jets CB Sauce Gardner as three-time winners of the rookie award. Wilson won in Week 2 against Cleveland and Week 8 versus New England. Gardner won in weeks 5, 7 and 9 and RB Breece Hall won in weeks 4 and 6.
A Jets rookie has won the Pepsi Zero Sugar Award 8-of-12 weeks including 7 of the last 9 and six times in a row between Weeks 4 and 9.