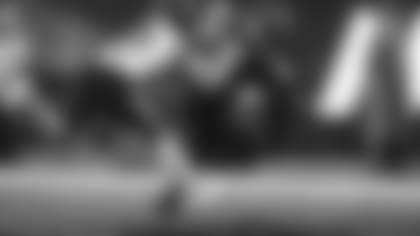 Two weeks after HC Robert Saleh told reporters that the Jets would look to get WR Elijah Moore more opportunities, the second-year receiver had a season-high 64 yards (second on the team) and caught his first touchdown pass of the season in the 31-10 victory against the Bears at MetLife Stadium on Sunday. 
"I just had to be patient, I knew it was going to come," Moore said. "You don't weather the storm, you become the storm. I am just thankful."
Head coach Robert Saleh said: "He has always been a great kid. Whatever happened with the trade request, that's not him. I feel like he has been working his tail off, being patient, trusting the process, and focusing on the things that he has control over. It was good to see him get production."
Out of frustration over his early, limited role, Moore had asked for a trade before the NFL deadline. At the time, Saleh said the Jets had no intention of trading the talented and quick receiver out of Ole Miss.
On third-and-9 with 11:34 remaining in the second quarter, QB Mike White fired a strike to Moore between two defenders, He ran 25 yards after the catch for a 42-yard gain. In the third quarter, Moore found space near the goal line on third down and White delivered a pass for a 22-yard score. It was Moore's sixth career touchdown and it extended the team's lead to 24-10.
"It goes down to whenever my number is called you have to make the play," Moore said. "I saw the safety bite down and I had to slow play it. Mike threw a dot and we got in the end zone."
White added: "It was an awesome feel by Elijah. It was an out-breaking route, but he had the feel to kind of slow up and get in that soft spot. That was a big one. Third down in the red zone, scoring coming out of the half. To get it to that two-score game, or whatever it was, it was big. That was a big play for Elijah."
Moore and White picked up where they left off last season -- in White's three starts, Moore had 14 receptions, 156 yards and 2 touchdowns.
"Man, [White] did tremendous," Moore said. "You can just feel the energy on the field when he's in there. We didn't take any steps back and it felt like we were just as confident with Zach [Wilson] in. I'm just grateful he played how he played and that we won. … We were just flowing We had adversity with the weather."
After the trade deadline earlier this month, Moore was quick to put that behind him. After Sunday's game, when the Jets totaled a season-high 466 yards of offense, Moore said that he is looking to build on his performance.
"I just really put my head down," Moore said. "Everyone is going to go through something and this is my story. I'm just thankful that this is how it's been for me. We have another game, we got another weekend and I'm ready to put my best foot forward for that week."
See the best images from the 31-10 victory over the Bears at MetLife Stadium.