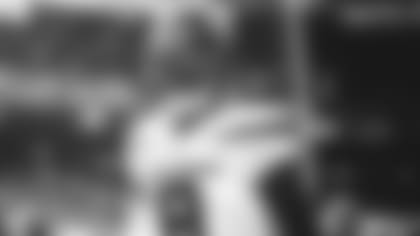 Jets rookie wide receiver Elijah Moore is a man of faith with a strong commitment to mastering his craft. Even after the sting of the Green & White's loss at New England last Sunday, the diminutive No. 8 was able to squeeze out some positives.
"Of course, after watching film, there were a lot of plays that were positive," Moore said on the latest edition of "Inside the Jets" with Bart Scott and Dan Graca. "The whole game was not a negative despite the score. There are always things we learn from. Never a loss, always a lesson. Rookie or veteran, you're always learning. Keep your learning cap on and keep pushing."
For Moore, 21, selected by the Jets in the second round (34th overall) in the 2021 NFL draft, the personal net positive was his first TD as a professional. It came in the third quarter at Foxborough on a 19-yard end around.
"It definitely was a blessing despite the loss and everything, my first time getting to the end zone, touching that paint," Moore said. "One of my close friends is going to dress up the ball. Make it all nice for me. It's something I'm going to treasure."
One might think that the TD would be Moore's "welcome to the NFL moment," a big day for the 5-10, 178-pound dervish of a WR who played in college at Ole Miss. One might think ... but you'd be wrong.
That signature moment came not against the Patriots, but in the Jets' third game of the season, at Denver. After taking a pitch from QB Zach Wilson, Moore scooted around left end before taking a crushing hit to the head. He left the game after making 3 receptions for 22 yards and entered the concussion protocol.
"That NFL moment, definitely the jet sweep in the Broncos game when I got hit," Moore said. "I was like that boy is really running as fast as me. In practice, I saw how the linebackers and the linemen move. Usually when I catch the ball over the middle, I make a couple of moves. But in the NFL, you better make a move and go."
After the injury, Moore sat out the Jets' Week 4 victory against Tennessee. The hit to the head at Denver came after Moore missed all of the team's preseason games with a quad injury sustained in training camp. That came after the speedy wideout turned heads in OTAs and early in camp. Now, in a crowded receivers room, which includes Corey Davis and Keelan Cole, and veterans Jamison Crowder and Braxton Berrios, Moore still has not hit his stride. So far this season, he has been targeted 26 times with 9 receptions for 79 yards.
"Elijah's time is going to come, it will," said offensive coordinator Mike LaFleur. "He's extremely smart, he's very versatile, he's an absolute great kid. And he comes out and works every single day." LaFleur added: "Elijah's a unique dude. He has a real knack for being able to see the ball, sight the ball, and make some great adjustments down the field. He's unique in that we can use him a lot of ways."
In addition to the rushing TD at New England, Moore had a reception for 13 yards and was targeted 6 times in the game.
"I always say what's a story without obstacles," he said. "It's never as perfect as you think or as bad as you think. Take things with a grain of salt. I just move forward. I'm learning a lot. I'm in the NFL. I'm blessed. I'm healthy and around a great team, a great staff, great teammates. It's all I can ask for.
"Everybody wants the ball, everybody wants to win. Me being a man of faith, I'm learning every day. I have faith in an ongoing process, just putting one foot in front of the other and doing what I can on my side. Trying to build chemistry and being a good person. When I do those things, nothing can go wrong."
Moore grew up in Fort Lauderdale, FL, and went to St. Thomas Aquinas High School, where as a senior he caught 28 passes for 407 yards and 5 TDs. He initially committed to Georgia (from among more than 30 scholarship offers), but then decided to head to Oxford, MS. Thing is, Moore said, football was not his first love.
"I hated football and I loved hoops," Moore said. "My brother told me to stand in front of the yard, get hit and tackle him. I hated it, I used to cry. When I was 6 years old I went to try out for a team and realized I was faster than anyone else. Then I had a girl coach who told me to get the ball and run outside. I scored a touchdown and it was fun. They couldn't touch me. Probably when I was in high school, my first game on the varsity I scored like five TDs. That's when I thought I could really do this. Then I started hearing about all these [scholarship] offers and I was only playing for fun. Then I started to take it seriously and really working out. In Florida that's what we do, it's how I express myself. Doing stuff like that brought more clarification that I love this."
As Moore and the Jets other wide receivers prepare for Sunday's game against visiting Cincinnati, they all must adjust to playing with QB Mike White, who is expected to step in for the injured Zach Wilson (PCL strain).
"Zach is a big piece, not just of the offense, but the whole team," Moore said. "He brings energy and keeps everyone up. He's a positive dude and it's hard seeing him go down. But it's always the next man up and now it's Mike White's turn to finish what Zach he started. I spoke with him [White] and know he's going to be alright. He hasn't had many first team reps, but we see how he moves in practice. No one is worried. We have an opportunity to work with someone who comes in every day and grinds."
And finally, asked what he likes to do in his downtime, Moore said "sleep is very important."
He added: "I play Madden here and there, and yeah, I play as myself. I don't think words have been created that can express how that feels. Where I'm from it is the dream of thousands and thousands and thousands of kids to do that. Every time I think about it, just hearing my name and making it this far ... words can't really express."