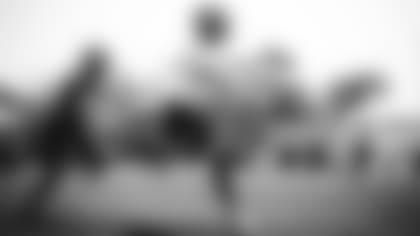 Down the depth chart? On the bubble? Up on the trading block? Denzel Mims no doubt has heard it from every direction this training camp.
But the Jets' second-year wide receiver still believes in himself and so does head coach Robert Saleh. And the past two practices, No. 11 has started to put it together again as he seeks his place in the Jets' reworked WR corps.
"Yes, I feel like I'm getting a lot more comfortable," Mims said after Wednesday's practice. "I missed [a lot of time] due to my illness so I've got a lot of catching up to do, But I feel more comfortable in the system, I know what they want. I'm doing everything I can to bounce back so that week one I'll be ready to go."
For fans and reporters trying to read the cloudy crystal ball regarding Mims' standing on Saleh's team and in Mike LaFleur's offense, his low profile for a while this offseason and summer may just be because of that illness. He didn't get salmonella, we don't think, but he said he did get a bad case of food poisoning from consuming salmon. As a result he lost 20 pounds, from 217 to 197, before he began to get his weight back and his body right to grasp LaFleur's West Coast scheme.
"Yeah, I feel like I'm caught up," he said. "Of course there's a lot I can learn in the system they want. But I feel I'm almost there. I've just got to keep grinding every single day."
Part of that grind is catching as many balls from as many QBs as possible.
"After practice, before practice, I get extra work with the quarterbacks," he said. "During practice, when I'm not in, I catch with the quarterbacks, make sure we're on the right page."
Asked if the extra hands work was his coaches' idea or his own, he said: "That's what I want. That's something that I choose to do. You don't have to catch extra balls, they don't force you to catch extra balls, but I want to catch extra balls and get extra time with the quarterbacks and coaches so I can be ready."
Saleh has some positive observations about last year's second-round draft choice out of Baylor. On Tuesday the coach said Mims is "working his tail off and the harder he works, the more he puts in, the more opportunities he's going to get. He's part of the rotation."
And Wednesday, Saleh seemed to lay the "giving up on Denzel" narrative to rest for now.
"There isn't a player in this organization that anyone's ready to give up on," he said. "We're in the second week of camp. They haven't even gotten the chance to go against another roster yet. They have three opportunities to go against other rosters and play and compete and establish themselves as what we want on this 53-man roster. Every single player is competing his tail off and doing a really good job."
Including Denzel. Mims has time to show that his 15.5 yards/catch on 23 rookie receptions and his six 20-yards-plus catches from Games 8-12 — the most 20-yarders by any Jets receiver in any five-game span last year — are repeatable and can be expanded to a full 16-game season. But the time isn't limitless.
Yet he said of his health, "I feel good." He seems to know what he has to do to fit into the Jets' wide receiver rotation once the regular season arrives. And he's certain about what he can do in year two as a Jet.
"You can't lose confidence in yourself in this game," he said. "If you lose confidence in yourself, you're not going to be a good player. And my confidence is high."