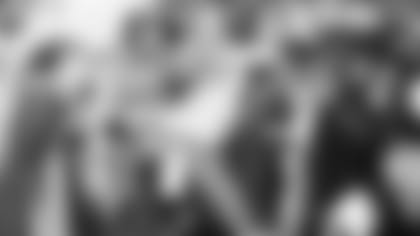 The good/bad problem that the Jets have with so much competition at so many positions is that some good players can get lost and eventually get released. Such is the case at wide receiver.
But with several wideouts sidelined for Thursday's preseason game at Washington, the opening was there for some players to emerge.
Or in Charone Peake's case, re-emerge.
"It was a long time coming," said Peake, who suffered a high ankle sprain in Game 3 vs. Miami last season, spent the rest of 2017 on Injured Reserve, and has been working his way back to full contribution ever since. "It felt really good to be back out there with the guys. I've been in practices throughout camp, but it felt really good to get the game confidence again."
Peake did more than just run around late against the Redskins. He made his first game catches in almost a year, on back-to-back plays that pulled the Jets to within 12-10 with 11:02 to play en route to Taylor Bertolet's go-ahead field goal with 1:52 left. The first catch was a 13-yarder from Teddy Bridgewater to convert second-and-9 and move the Green & White into the red zone. The next play was a tumbling 16-yard touchdown reception from Bridgewater.
"It was just a regular corner ball," Peake told me after the game. "Teddy threw a great ball, put it high up for me. Me and him, we had that connection."
What connection would that be? No, not that both players have worked their way back from lower extremity injuries, although they have.
"It dates back to 2011, where Peake and I played in the U.S. Army All-America Game," Bridgewater said, "so there's history."
But Teddy, who's been on his own journey, also appreciates Charone's recent travels.
"He's a guy who's been working extremely hard to get back out there on the field," the QB said. "To see him out there playing well, it speaks highly to what he's been doing."
It also speaks to the proposition that Peake has not lost his big-play knack. As the Jets' seventh-round rookie WR out of Clemson, he had a modest 19 receptions, many of them on shorter routes. But many of them moved the chains — seven went for first downs, four converted third downs and two converted fourth downs.
Even in his limited exposure in 2017, that trend continued: two receptions (one preseason, one in Game 2 at Oakland), one for a short touchdown from Josh McCown, both converting third downs.
To mix apples and oranges, and including Thursday's numbers, Peake has 23 pro catches, with 48% producing first downs and 35% converting third or fourth downs. The "crunch down" percentage is especially impressive.
But the statistics don't matter as much to Peake as his ability to contribute again to the cause.
"I want to do whatever it takes to win. Whatever opportunity I'm given, take advantage of it," he said. "That's really my job right now. Every opportunity I get, do it full speed. Whatever they want from me, give it to them."