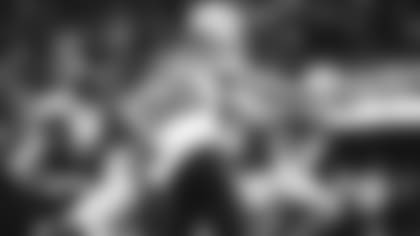 Jets rookie Will McDonald IV is the newbie in the room occupied by the team's deep and relentless defensive linemen.
"All of them take me up under their wing and make sure I'm doing what I should be doing," McDonald said. "We hang out and I definitely feel like a brother. It's one big family we got in there. I give them credit for where I am today."
The 24-year-old native of Pewaukee, WI, was the Jets' top draft pick this past April (No. 15 overall) out of Iowa State. As a sophomore he set a school record with 10.5 sacks (and tied for the national lead), and then broke his own record with 11.5 the next season. Along the way, McDonald gained wide recognition across social media for his "hobby" of jumping over cars. 
"Just part of my ability to do wild things," McDonald said.
With the Jets' D-line helping to drive a stout defense that has hounded a slew of elite NFL quarterbacks (Justin Herbert, 65.4 passer rating, his worst of 2023; Jalen Hurts, 59.5, his worst; Patrick Mahomes, 63.6, his second-worst; and Josh Allen, 62.7, his worst), McDonald has had to mostly bide his time. He has played in seven games (taking 75 total snaps on defense, 16%; and 68 snaps, 33% on special teams) and this past Monday night he notched his first sack, actually half a sack, in the third quarter in the loss to the Chargers.
Coming from the left end, McDonald tried to power his way past RT Trey Pipkins, but, met with resistance, used his favored spin move to get past Pipkins before zeroing in on Herbert, who was trying to escape the pocket. McDonald knocked the ball loose, but Herbert was able to cover it when Micheal Clemons failed to pick up the ball.
"I didn't even know I got the sack, I thought it was Solly [Solomon Thomas, who shared the sack]," McDonald Said. "I was coming back and saw Solly getting him down. I didn't know the ball came out. I was there celebrating with Solly. It was a happy moment for me. My first sack in college was a fumble, so it's special for me."
Adding more description, McDonald said: "I was on the left side with the right tackle. I tried to beat him off the edge, but I wasn't not able to get the edge. I countered back to the right side and was able to make the play."
The Jets ended the game with 5 sacks and 13 quarterback hits.
McDonald played a small, yet pivotal role in the Jets overtime win over the Giants on Oct. 29. With the Giants poised to take a 6-point lead with 28 seconds left in regulation, McDonald vaulted over the offensive line and distracted kicker Graham Gano just enough for Gano to shank the field-goal attempt. Zach Wilson rallied the Jets to the tying field goal before Greg Zuerlein completed the improbable comeback with a winning FG in OT.
McDonald said that special teams coordinator Brant Boyer was aware of his leaping ability but that: "We didn't work on it that much, I was just using my skills jumping over cars and stuff. We were able to make them miss. We just have it in our back pocket when we need it.
"It's just my ability to do wild things."
The Jets and McDonald play Sunday night at the Raiders, a team with their own demon on the defensive line in Maxx Crosby (9.5 sacks, 13 TFL, 13 QB hits). McDonald said he cribbed his spin move from Crosby.
"It's crazy because I rep my game after Maxx, I'll definitely be taking notes and hopefully will get to chop it up with him after the game," McDonald said. "He's one of my favorite players to watch, repping my game after. It will be an honor to talk to him and get some advice. I will seek him out, I have to pick his brain.
"I got my spin move from him and added my own sauce. Last week [against the Giants] he did an outside spin move, a real good play, and ended up pinning the quarterback. I'm definitely going to steal that from him."
The Jets (4-4) will be looking to get back on the winning track as the Raiders (4-5), who have a new coach in Antonio Pierce, will be looking for their second-straight win.
"We have a good game plan, the D-line is going to do what we do," McDonald said. "We're going to eat, get the dub and try to hurt some people. It's going to be a good matchup."
Summing up, McDonald said: "It's been a journey so far. There's many more things to come."