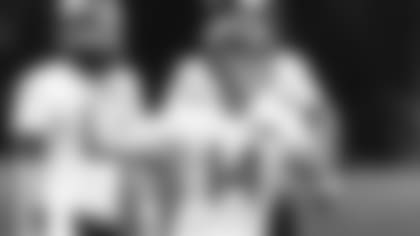 Sam Darnold had a stark and pointed answer to a question on Thursday: What can the Jets do to succeed in the red zone?
"Execute," Darnold said. "Execute and do our jobs."
That is always a challenge in the NFL, and for the Jets (0-2) that challenge will not get any easier in Week 3 against Indianapolis (1-1) on Sunday at Lucas Oil Stadium. The Colts' defense is a puzzle that Darnold and the Jets must solve. After two games, the Colts' defense has limited the opposition to 94 plays while QB Phillip Rivers and the offense have run 136. It's clear that the Colts defense knows how to do its job and get off the field.
"These guys, they haven't had to play a lot of plays," Jets Head Coach Adam Gase said on Thursday. "Their offense has held onto ball [average drives of almost 4 minutes] and they've done good job getting off the field [opponents' drives averaging 2:32]. They are really good up front, their linebacking corps is as fast as we're going to play. They know their defense. They have a lot of same guys from 2018. [DeForest] Buckner makes their defense dangerous."
Through two games (a Week 1 loss at Jacksonville and a Week 2 win against Minnesota), Indianapolis is ranked No. 1 in total defense allowing 208 yards a game and No. 1 in passing defense allowing 122.5 yards a game. Conversely, the Jets offense, which has been bothered by injuries in the backfield and at wide receiver (and now on the offensive line), is near the bottom of the league in the critical categories of total offense, passing offense, rushing offense and scoring offense.
"They have a really tough defense and to a certain extent they will do what they're going to do," Darnold said. "Nothing crazy. They will stick with what they do, and they do it really well. We're excited for the challenge, and I think we're up for it."
Colts inside linebacker Darius Leonard leads his team with 16 tackles (10 solo) while Buckner has 9 and 1.5 sacks. Overall, the Colts have notched 7 sacks so far this season, with DE Denico Autry leading with 2. The Jets' ability to keep Darnold upright this week will be challenged because of injuries to C Connor McGovern (hamstring) and T George Fant (in the concussion protocol). In addition rookie T Mekhi Becton (shoulder) has been limited in practice, but is expected to play.
The number of arrows in Darnold's quiver is further limited by the absence of RB Le'Veon Bell (on IR with a hamstring injury), and WRs Jamison Crowder (hamstring) and Breshad Perriman (ankle). Gase said that Crowder is unlikely to play against the Colts.
"Wide receivers, offensive linemen ... look at we're not the only team going through this," Gase said. "It would be one thing if it was, but look around the league, guys are going down left and right." He added: "That's part of being in the NFL. Nothing comes easy."
Though the Jets are dealing with a raft of injuries and adhere to the "Next Man Up" approach, Darnold believes that his teammates are ready to embrace new opportunities and show what they can do.
"It's always great when we've got guys excited about the opportunity to play," he said. "We're excited for them. My job is to execute the plays, find completions and put the ball in the end zone. At the end of day people judge me and the coach on wins and losses. That's what matters."
See the Top Photos from Thursday's Practice During Week 3