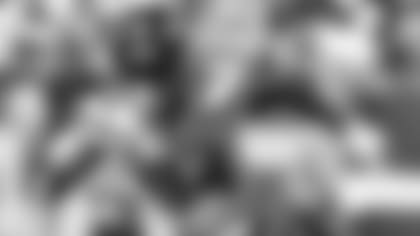 Back for a second day of practice on Wednesday after the bye week, the Jets' No. 1 wide receiver Corey Davis did his best to not sound like he was on a repeat loop. That said, his message came through loud and clear.
"We're ready ... we're ready," Davis told reporters during a midweek press conference ahead of Sunday's game at New England (2-4). "I don't want to say too much but ... we're ready. That's my train of thought."
After a week off from the NFL wars and several days away from the Atlantic Health Jets Training Center, he asserted that the break -- albeit after only five games -- was needed by rookie QB Zach Wilson, et. al.
"I think it helped him [Wilson] a lot, really the whole team," Davis said. "It was good to step away, kind of refresh and regroup. It was definitely needed. It was an early bye, but we needed it and guys have come back hyped up. We're ready for this week."
For the Jets (1-4), it's an early end to the annual two-game division rivalry with the Patriots after the Green & White's 25-6 loss to New England in the home opener on Sept. 19. To a man, the Jets assert that the final score was not an indication of their play in the game, which featured four costly turnovers that hampered the Jets' ability to stay viable in the game.
"I think it's an opportunity to show what we've been doing and how far we've come since the last time we played them," Davis said. "I think we were better than what we displayed against these guys. We have to play fast and we've got to handle our business."
In that first game against the Pats, Davis was held to 2 receptions for 8 yards. As has been the case for every New England team under HC Bill Belichick, the defense is committed to taking away the opposition's top threat(s), a goal they accomplished in Week 2 to make Wilson's day-all-the-more difficult.
Through five games, Davis has a strong stat line that reads: 36 targets, 20 receptions for 302 yards (15.1 yds/catch); plus 3 TDs and 13 receptions for first downs. The normally sure-handed Davis has had 5 drops.
"Obviously, you don't want to drop passes, but it happens," Davis said. "I'm doing a lot more work this week and getting locked in on the ball with a focus on the drops."
He added: "A lot of what I've said over the past few weeks is going to sound repetitive, but really, where it starts is that we early on shoot ourselves in the foot and don't give ourselves a fighting chance."
For that to happen, the Jets have to get off the schneid in the first quarter (no points through five games) and in the first 30 minutes (13 points scored).
"One play at a time and don't overthink things," he said. "One day, one play at a time."