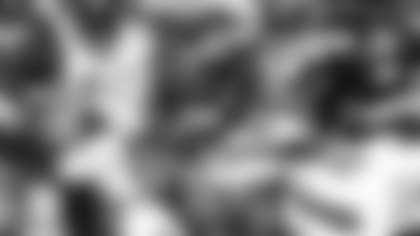 When general manager Joe Douglas, head coach Robert Saleh or any Jets player talks about playing meaningful December games, that would hearken back to the decade plus a year from 2000-10. Setting aside playoff statuses, the Jets in December and January of those seasons played 17 games in which they and their opponents both entered with winning records.
From 2011-2021, the Green & White played in only one such game: the 26-20 overtime victory over the Patriots at MetLife Stadium in 2015. A playoff atmosphere that day, to be sure, but a win that didn't get the Jets into the '15 postseason.
Sunday, the Jets return to that enchanted land again as they take their 7-4 record to Minneapolis to play the 9-2 Vikings. Both teams want to improve their playoff positioning, the Jets from seventh place and the final playoff spot in the AFC, the Vikes by keeping pace with and passing the 10-1 Eagles, who beat them in Week 2, for the NFC's top seed.
Both teams are eager to continue the progress of their programs, the Jets under second-year HC Saleh and Minnesota under rookie NFL head coach Kevin O'Connell, the former Jets backup QB.
Here is a closer look at some themes that may arise during the game.
The Team Narratives
The Jets seemed on the edge of crisis when they fell for the second time in three games to the Patriots, in a game at windy Gillette Stadium decided on a last-second punt-return TD and in which the Jets couldn't score and couldn't move the ball.
Crisis seemingly averted: Saleh installed Mike White at QB over Zach Wilson and White had a sterling passing day in leading the the Jets past the Justin Fields-less Bears, 31-10, back on the winning track and back into the AFC power grid.
For Minnesota, a fine season was tarnished two weeks ago when Dallas visited U.S. Bank Stadium and administered a 41-3 pounding. How could such a result happen? Many pointed to a "victory hangover" from the Vikings' stirring 33-30 overtime road win at Buffalo. And some of those many thought the magnitude of the defeat indicated something missing in the Vikings' makeup.
"We're an 8-2 team," O'Connell said. "There's going to be a lot of narratives about our team that we really can't control. We know that. We've just got to look inward to our locker room. I felt all along we've got the right kind of guys, the right coaching staff. I do believe we will respond to this in the right way."
Then they went out Thanksgiving night and roasted the visiting Patriots, 33-26.
The Quarterbacks
White's production and poise vs. Chicago are widely recognized now. Many draw the parallel to his pro starting debut in the 34-31 MetLife win over the Bengals last year. But White followed up that gem with an injury-shortened loss at Indy and a 45-17 defeat at the hands of the Bills before returning to his backup role. And he wants to rewrite that script now that he's won his first start of a season once more.
"That's part of playing quarterback. That's part of handling the successes and turning the page and moving on," White said. "I think that's where I got in trouble in the Buffalo game last year, and I learned from that. You've got to learn from your lows and build upon that and just keep playing smart, winning football."
Minny QB Kirk Cousins appears to be prepared to sail this Vikings longship deep into the playoffs, but Minnesota critics also have bones to pick with Cousins, who is arguably having his most unimpressive season since becoming a full-time starter with Washington in 2015 — his lowest passer rating (88.6), lowest TD percentage (4.11%) and on pace for his most times sacked in a season.
What's more, Cousins seems to know it.
"I'm coming to these press conferences trying to smile, having to work to smile," he said on forbes.com, "because I'm thinking, 'Man, I've got to play better.' I appreciate winning because it does make this a little easier. But yeah, there's a lot in the game where you're always saying, 'I've got to be better.' "
The Defenses
White looks to be in a nice spot for this one. The Jets have an award-winning tandem in the QB, this week's Fed-Ex Air Player of the Week, throwing to Garrett Wilson, the Pepsi Zero Sugar Rookie of the Week. White also got Elijah Moore involved with two big plays vs. the Bears, and Corey Davis is easing back into his elder statesman/pass catcher's role. TE Tyler Conklin will be fired up to return to Minnesota, where he played his first four NFL seasons.
And with the Vikings coming in low or last in some NFL pass defense stats (31st in total yards per game and per play, 32nd in net passing yards per game and per play, 30th in 20-yards-plus completions allowed), the Jets might be able to capitalize big-time.
The Green & White defense, meanwhile, is playing like one of the best units in the league, with top 10 rankings in total yards, rush and pass yards, points allowed, pass defense, interception and sack rate. But the Vikes, Cousins' self-analysis notwithstanding, have been winning with a solid WR corps led by young star Justin Jefferson and older mainstay Adam Thielen, with the pass game balanced out by Dalvin Cook's very productive running.
Those Even-Steven Intangibles
Special teams could be a factor. Jets PR Braxton Berrios leads the NFL's fourth-best punt-return unit but Minnesota is the sixth-best at covering punts. Kene Nwangwu heads the Vikings' No. 6 KR unit and just returned a kick for a TD vs. New England, but the Jets counter with the league's No. 6 kickoff-coverage unit.
This is a meeting of the NFL's two best fourth-quarter point-margin teams through 12 weeks. The Jets have given up the fewest fourth-quarter points in the league (33) and lead in fourth-quarter point margin (plus-51). The Vikings have scored the most points (93) and are second in final-frame margin (plus-50).
The Jets are eyeing a 5-1 road record with a win, which would be their best road start since 2010. They're plus-4 in turnover margin in their first five away games. The Vikings, meanwhile, are 5-1 and plus-2 in turnovers at home.
The Jets are 2-0 against the NFC North already with wins at Green Bay and last week against Chicago and are seeking their first undefeated record vs. an NFC division since going 4-0 vs. the NFC Central in strike-shortened 1982. The Vikes are already 3-0 vs. the AFC East and the Jets would be the final piece to that crown.
It may take one of these intangibles or some other ones not mentioned to decide this game, which has the feel of two evenly matched interconference foes having at each other in a packed house filled to the rafters in playoff atmosphere.
See the top practice images leading up to the Week 13 matchup against the Vikings.