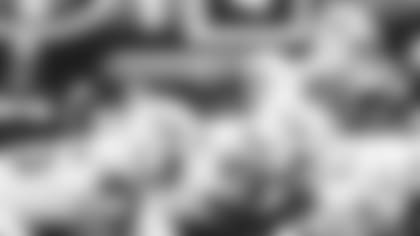 Worked Out for the Best
Equipped with a boatload of cash entering free agency last spring, the Jets made a run at Kirk Cousins. But he elected to go to Minnesota, agreeing to a three-year deal with the Vikings for a fully guaranteed $84 million. Cousins has been outstanding for the Vikings, having completed 71.2 percent of his passes with 12 touchdowns and just three interceptions.
While Cousins is working out in the 'Sota, the Jets are quite happy where they landed as well. General manager Mike Maccagnan quickly pivoted, worked a deal to move up three selections in the first round and ultimately landed USC signal caller Sam Darnold with the No. 3 overall selection. Darnold's numbers aren't as gaudy as Cousins, but the 21-year-old has gotten better each week. During the Jets' current two-game win streak, the red-headed rifleman has connected on 65% of his passes for 478 yards with five touchdowns and just one interception.
"I was really just paying attention, especially during that time, definitely paying attention to Kirk, what he was doing free agent wise and trying to understand what team I could maybe go to," Darnold said of the spring activity. "Who might pick me up? Yeah, I was definitely thinking about all that stuff during the draft process. But at the same time, I knew I didn't have any control over it. But I was definitely paying attention and was aware of all of it."
The Vikings are 3-2-1 and they think Cousins is a guy who can ultimately lead them to a championship. The Jets are 3-3 and they can compete with anyone now while building around an unflappable youngster who has all the looks of a franchise signal caller.
"Yeah, everything worked out for the best I think," said Darnold.
Equal Opportunity Distributor
While Darnold could be minus his top target in Quincy Enunwa (sprained ankle), there is reason to believe he will continue his upward trajectory. Offensive coordinator Jeremy Bates is thriving with a balanced attack and Darnold is hitting new guys each week. After a Robby Anderson breakout against the Broncos in Week 5, Darnold kept the party going against the Colts. He had four connections to tight ends Chris Herndon (2-56-1TD) and Neal Sterling (2-13), five completions to Terrelle Pryor and veteran Jermaine Kearse, who entered Week 6 with seven receptions, tied a career high with his nine grabs for 94 yards.
"This game was just a game where I got some opportunities and I was able to make the most of them," said Kearse following the Jets' 42-34 triumph. "We have a lot of playmakers in our room and we have to be ready for when our number is called and to take advantage of it. I was able to take advantage. I missed the first game and kind of worked my way back in, trying to get a groove and chemistry in there the first couple weeks. It was good to have a game where I can get some touches and find a rhythm. There's still a lot to improve on and get better on, but it was a good start."
Sheldon Richardson Returns
Nine days before the start of the 2017 season, the Jets obtained Kearse in exchange for DT Sheldon Richardson and a second-round pick. Kearse would have the most productive season of his career (65-810-5TD) and Maccagnan used that second-rounder in the swap with the Colts that ultimately helped the Green & White land Darnold. Richardson totaled 44 tackles, one sack and one interception for the 'Hawks and then hit free agency and joined the Vikings.
In six games with the 'Vikes, the 6'3", 295-pound Richardson, a first-round pick of the Jets in 2013, has 20 tackles and one sack.
"We're going to be going at it. We always went at it in practice," said RG Brian Winters of Richardson on this week's installment of Inside the Jets. "It'll be a good matchup. I'm excited to see him, he's actually a good friend of mine. It'll be fun."
The Vikings have a formidable front with Richardson pairing up with Linval Joseph on the inside and DE Danielle Hunter pacing the defense with seven sacks. Everson Griffen is being treated for mental health issues and will again be held out of the lineup, but the Jets have to be ready for Mike Zimmer's double-A-gap blitzes.
"Two guys over the center. You have the two 3-techniques, you have the nose and sometimes two A-gap guys, mostly linebackers that'll walk up," Winters said. "It brings a challenge for us because they'll rush six. We'll have to game plan them."
Numbers Game
Early in the season, the Vikings were susceptible to big plays in the passing game and are tied for last in the NFL in terms of 40+ yard completions allowed with seven. They have also rank 29th in 20+ yard pass plays with 26. But they own the best third-down defense in football and are allowing conversions only 25% of the time after pitching a shutout (0-for-10) in their 27-17 win over the Cardinals in Week 6.
"The whole game is about adjusting and talking about the blitzes, the protections and 'all right, now we have to run this one,'" said Zimmer of his blitzing ways. "So, you have to have enough bullets in your holster that you can pull some out and you hope you pull the right ones out."
The Jets rank second in the NFL with 15 takeaways after the defense amassed four against the Colts. But the Jets, who are 11th in scoring at 27.5 points per game, rank last in red zone percentage (30% TD rate).
Secondary Matters
After not lining up with cornerbacks Trumaine Johnson (quad) and Buster Skrine (concussion protocol) against the Colts, safety Marcus Maye suffered a hand injury and had an X-ray early this week. The Vikings just placed talented rookie corner Mike Hughes on the injured reserve after he tore an ACL against the Cardinals.
If Maye can't go, the Jets could elect to go back to a pairing of Doug Middleton, who started the team's first three games and is fourth on the club with 21 tackles, and Jamal Adams. Darryl Roberts has started the past two games in place of Johnson and rookie Parry Nickerson has been the team's primary nickel ever since Skrine went down against the Broncos. The Jets will need all hands on deck against a Vikings squad that features perhaps the NFL's top tandem at receiver in Adam Thielen, who leads the NFL in receiving yards (712) and has topped the century mark in all six games, and Stefon Diggs, who is on pace for 107 catches, in addition to a fine tight end in Kyle Rudolph (27-266-2TD).