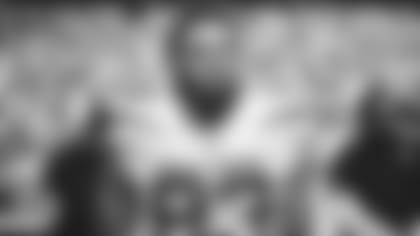 After totaling the most yards and receptions by a Jets tight end since 2011, Tyler Conklin is planning to build off a strong first season with the Green & White with a productive offseason.
"I have mixed feelings about the season," Conklin said. "I had really my first opportunity in Minnesota last year, and I feel like this is really my second season with big role. And I feel like I did some things well and there are a lot of plays I left out there. I think that I have a lot of room to grow and that starts this offseason."
Conklin, who signed with the Jets in free agency last March, played every game for the Green & White, tying a career-high with 3 touchdown receptions. He finished second on the team with 87 targets – eighth among tight ends in the league – and had 58 receptions for 552 yards.
Additionally, Conklin finished second on the team in receiving yards, receptions and receiving touchdowns, trailing only alternate Pro Bowl WR Garrett Wilson in each.
Heading into the 2023 offseason, after arguably his best season statistically, Conklin has made a Pro Bowl selection his goal.
"I obviously didn't do that this year," Conklin said about making the Pro Bowl. "So, I'm excited to get to work this offseason and try to make that happen next year. But it was a successful season, I think."
Conklin's journey to possibly his first Pro Bowl starts with making improvements to his play in the open field. The veteran tight end said he missed a few opportunities to help the team and produce better numbers after a catch.
"A big thing for me this offseason is going to be improving in the open field," Conklin said. "And my speed. Getting yards after the catch and making people miss in the open field and just learning the ins and outs of running routes in this offense."
Entering his second offseason under HC Robert Saleh with a better understanding of the route tree the team uses, he has arranged to spend time doing more agility, speed and strength work to create enhance his versatility Conklin and his teammate on offense will be challenged leading up to the start of next season because the Jets will have a new offensive coordinator, who could decide to tweak the team's current scheme.
"Every system is different," Conklin said. "I have a lot of freedom in our route running in this offense. So now knowing kind of what routes I run and how our system works. So going into the offseason I am trying to figure out ways to win on certain routes. And to just keep mastering my route running speed and ability will be important."
As an offense, the Jets struggled down the stretch, producing no touchdowns over the team's final three games. Conklin is proud of how the team performed but excited to work over the summer to correct the issues.
"I think we all would have liked to handle it better," Conklin said. "And if we had performed better as offense, we could have won more games. But I am proud of everybody for the way we worked as a team and as an offense."