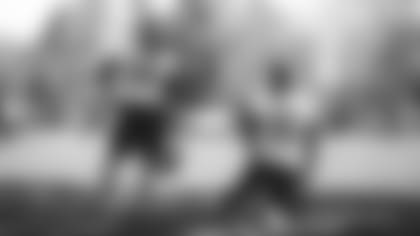 What's New
The Jets' placekicking saga isn't new but one of the two combatants is. Greg Zuerlein, a.k.a. "Greg the Leg" and "Legatron" from his early years with the Rams, signed as a free agent in March after coming from the Cowboys off a so-so year that began with him rehabbing from back surgery. Zuerlein will take on Eddy Piñeiro, who kicked well for the Jets after replacing Matt Ammendola for the Saints game last December.
Zuerlein's highlight years were with the Rams, but his career numbers even with two of what he called "not my best years" in Big D are still impressive. He's one of only five NFL kickers with two 60-yards-plus field goals in his career, his 38 field goals from 50-plus the past decade are third-most in the league in that span, and he's notched at least one FG of 54 yards or longer in every one of those 10 seasons.
Piñeiro, as Jets fans know, is only the second kicker to convert his first eight FG tries as a Jet and has never missed from 50-plus (8-for-8) in his two pro seasons plus his two Florida seasons.
Whoever gets the job, a stretch in Green & White kicking history will continue. If Piñeiro prevails, he would become the Jets' seventh different opening-day kicker in the last seven years. And if Zuerlein takes it, he would be their 13th different kicker in the last eight seasons.
Players to Watch
It won't be hard to focus on the Jets' kickoff and punt returners, who last year were the same guy. Braxton Berrios finished first in the NFL in KO return average, would've been second in the league in PR average if he had enough returns to qualify, and was named first-team All-Pro by AP. Not coincidentally, he became a free agent briefly before re-signing with the Jets.
We don't think Berrios will get beaten out as the main returner, but it could be that he proves himself even more valuable in the offense than last year and will have his special exposures reduced. In that case, ST coordinator Brant Boyer has a few options behind "Honey Nut" (Berrios' nickname since high school, if you hadn't heard).
Tevin Coleman may be in his eighth pro season, but last year he showed the legs and giddyup of a much younger returner when he averaged 28.8 yards on the first 11 KO runbacks of his career, topped by his 65-yarder at London vs. the Falcons. And undrafted rookie Zonovan "Bam" Knight could be intriguing after averaging 30.8 yards/return and scoring three touchdowns on 30 KO returns the past two seasons at North Carolina State.
As for punt returns, first-round pick Garrett Wilson has experience in that fine art at Ohio State, although he averaged only 6.0 yards on 34 returns in his three Buckeyes seasons.
Key Questions
Will Justin Hardee lead the special teams tacklers and blockers again? Hardee topped the Jets with 12 ST tackles and was second with 368 ST snaps, while Del'Shawn Phillips was second with 11 tackles and first with 374 plays. If those two and maybe Hamsah Nasirildeen are in the forefront again, the Jets could remain one of the NFL's return average leaders — they were second in punt returns, first in kickoff returns and second in opponents' KO returns in '21.
Who from the rookie and second-year ranks will leap up and become the special-teams studs behind Hardee and Phillips, especially on punt coverage? The Jets ranked 27th in 2020 and 28th last year in opponents' PR average and have allowed 11.1 yards/return both seasons combined.
Is the third year the charm for P Braden Mann? He improved both his gross and net punting averages in 10 games in '21 over a full season in his rookie campaign. Mann also filled in for parts of the past two seasons on kickoffs, and in the last five games last season, he notched 20 touchbacks on 22 KOs, a 90.9% rate that is third-best in the NFL for a kicker with at least 20 kicks since TB frequency started to be charted in 1994. Keep in mind Mann was an experienced kickoff man at Texas A&M, where he averaged more than 70 KOs in four college seasons.
Will LS Thomas Hennessy ever err? We're sure neither Hennessy nor Boyer is happy with every one of his long snaps, but he's had no fumbles charged to him nor has he committed a penalty in his five seasons as the Jets' snapper.