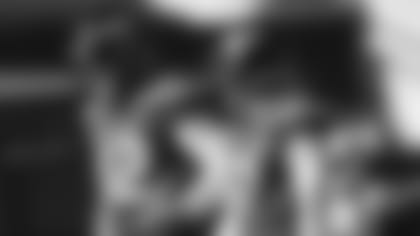 What's New?
Brant Boyer is decidedly not new as he embarks on his sixth season coordinating the Jets' specialists. But special teams coaches' lot in life is to say goodbye to the old and welcome in the new. So six of the top 10 Jets in terms of most special teams snaps last year are gone (Matthias Farley, Harvey Langi, Frankie Luvu, Neville Hewitt, Tarell Basham and Arthur Maulet). But many new Jets will be making bids for coverage, return and blocking positions, led by fifth-year veteran Justin Hardee, who with New Orleans from 2017-20 participated in 1,104 ST snaps, 20th-most in the NFL in that span.
On punt returns, Braxton Berrios has been joined during OTAs by young vet WR Keelan Cole, who didn't have a lot of returns in his four Jacksonville seasons but still is packing a 15.6-yard average on nine career returns, thanks to his 91-yard TD runback for the Jaguars at Green Bay last year. And second-round rookie Elijah Moore is also getting some looks at PR.
On kickoff returns, Vyncint Smith (26.8 yards/return in 20 games) and Corey Ballentine (26.2 in six for the Green & White last year) are back and have the fourth- and fifth-best KR averages by a Jet (minimum 10 returns) since 2010. They're likely to be joined by rookie RB Michael Carter.
Undrafted free agent K Chris Naggar transferred from Texas last year to do it all (placekick/punt/kickoff) at SMU and will get a long look vs. Sam Ficken in training camp.
Players to Watch
Hardee not only gets a lot of special reps but a lot of coverage tackles to go with those reps. From 2017-20, his 32 ST tackles are tied for 15th-most in the NFL and his 26 solo ST tackles are tied for seventh. He even snuffed a punt and returned it for a score as a rookie in '17. He'd love to get more plays at CB but will be worth watching as he blows up opposing returners in between defensive reps.
Braden Mann finished low in the NFL's punter rankings as a rookie, but he finished strong in the second half with a better inside-the-20 rate and a better hang time unofficially of 4.50 seconds, capped by that monster 5.65-second hanger at the L.A. Rams. And he'll make the TD-saving tackle on occasion as well.
Shifty Carter, the fourth-rounder from North Carolina, had a 22.4-yard average on 29 college kickoff returns and would figure to get a boost from NFL return schemes, considering he also averaged 6.6 yards/rush and 8.0 yards/catch at UNC. ... Is this Daniel Brown's year in coverage? He was re-signed in April after leading the special teams the past two years with 633 snaps, and his 11 ST tackles in that span are the most by a returning Jet (Hewitt had 14).
Key Questions
Will Thomas Hennessy make a mistake? We're sure he's hard on himself for some snaps, but he's never fumbled or launched an errant snap in his four previous seasons as the Jets' LS, nor has he committed a penalty. ... Is this the year Berrios will have more punt returns than fair catches? His 56 FCs the past two years lead the NFL. But no complaints, since his 10.5 yards/return is fifth in the NFL in 2019-20 and fifth-best in a career in franchise history, and he rarely fumbles. ...
Can Ficken rise to the challenge from the undrafted rookie Naggar? Sam had peaks and valleys in his first year in green and white in 2019, then actually kicked better last year but in only nine games as he missed two three-game stretches with a groin injury. ... Boyer's units were in the NFL's top-10 in 2018-19 but fell out of the upper echelon last year. With this year's infusion of new talent, are the Jets' special teams set up to rise again?
See the Jets Specialists Leading Up to the 2021 Season