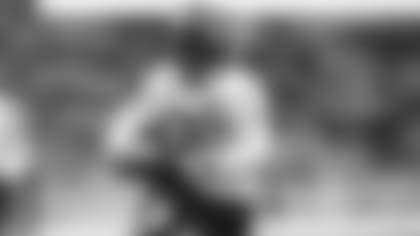 What's New
The Jets' RBs room has youthful stability with five returnees from last year's final roster in Michael Carter, Tevin Coleman, Ty Johnson, La'Mical Perine and FB Nick Bawden. Coleman is the graybeard of the group with seven NFL seasons under his belt. Their average pro experience including TeCo is a 3.4 seasons.
But then two rookies climbed aboard, accompanied by some strong college careers.
For Breece Hall (5-11, 217) of Iowa State, the magic number is two — he was one of the draft's biggest steals as the Jets traded up two spots in Round 2 with the Giants to snare him at No. 36 overall. And he has a remarkable résumé — two seasons of at least 2,000 rushing yards and 29 total touchdowns each at Wichita (KS) Northwest HS, then two seasons of at least 1,400 rush yards, 1,700 scrimmage yards and 23 total TDs each and totals of two first-team All-America berths and two Big 12 Offensive Player of the Year awards at ISU. His 4.39-second 40, 40.0-inch vertical leap and 10-6 broad jump made him one of the top Combine performers. Oh yeah, and 49ers great RB Roger Craig is his cousin.
And Zonovan "Bam" Knight (5-11, 209), who signed as an undrafted free agent, had a similar pedigree in the state of North Carolina. He rushed for 2,000-plus yards and 26 rush TDs as a senior at Southern Nash HS, then went enrolled early at NCSU, where he led the Wolfpack in rushing yards all three of his seasons there, totaling 2,286 rushing yards and 18 TDs for his college career.
Player to Watch
Carter is a gem already being polished this offseason so he can sparkle even more in his second pro campaign. Last year the fourth-rounder from North Carolina became the Jets' starting tailback in Week 3 and wound up the team leader with 639 rushing yards, which was also fourth among NFL rookies. His first 100-yard scrimmage game came in the Week 7 loss at the Patriots, his season high in scrimmage yards came the next week with 172 yards in the stunning of the Bengals, and his first 100-yard rushing game (16 carries, 118 yards) came in the late subduing of the Jaguars.
"Michael Carter, I mean, he's such a special talent," HC Robert Saleh said following his Jacksonville jaunt. "The first tackler never brings him down. If the O-line blocks it for 5, he's finding a way to get 8, 9 and 10. He's pretty cool."
"Whenever that number, your number, is called, it's a beautiful opportunity to go get it," Carter said last November. "I just think that attack mentality is something that we're building and we're going to explode soon. I'm excited. We have the team to do it. It gives me a sense of belief that we don't ever give up in the game, ever."
That was last season, but presumably the same and then some holds true for year two.
Key Questions
Is Coleman getting old? Last year, his first as a Jet, he sat out six games due to injury/illness, had a second straight season of fewer than 200 offensive snaps, 85 carries and 100 scrimmage touches, and his 4.5 yards/catch was a career low. On the other hand, he averaged 4.2 yards/carry, matching his career average, and unveiled a new trick late in his NFL career by returning 11 kickoffs for a nifty 28.8 yards/return, including that 65-yarder on his second career return in London vs. the Falcons. Saleh last year: "Tevin has proven throughout his career that he can run in this system." So maybe there's still Jet life after his 29th birthday, which he celebrated in April.
Can Perine find his mojo? A fourth-round pick in 2020 who had a solid four-year career at Florida, he has yet to start a game and yet to average 4.0 yards/carry in an NFL season. He began last season with a foot injury but was deactivated for 13 of the Jets' 17 games, the last 11 by coach's decision. Perine seeks to spark his NFL career, which has entered that pivotal third season.
How will the RB rotation work itself out? Carter has a leg up on the starting role after getting 38% of the backfield's 1,174 snaps and 45% of its touches, but that leaves a lot to be divvied up. Will the rotation behind MC be Coleman and Hall with Johnson in his third-down role? And does Bam fit in only as a KO returner (he had three TDs and a 30.8 average on 30 returns in 2020-21 for NCSU) or will he find his niche in the offense?
And can the Jets do even better throwing to their backs? Their RBs had 84 receptions last season, tied for 15th in the NFL, yet Johnson was No. 1 in the league among backs at 10.94 yards/catch and Carter was 10th at 9.03 yards/catch. Is that the balance OC Mike LaFleur wants or can the numbers be boosted with a Coleman rebound and the additions of Breece and Bam into the receiving equation?