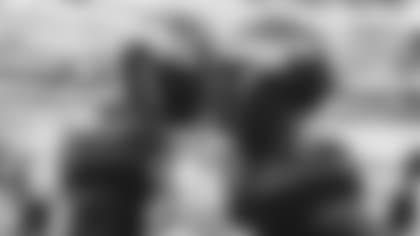 What's New
After making a run at game-changer Tyreek Hill in March before Miami secured the 'Cheetah's' services, Jets GM Joe Douglas remained committed to adding another receiver to help accelerate the development of second-year QB Zach Wilson. Douglas countered during Round 1 of the NFL Draft with the selection of Ohio State standout Garrett Wilson at No. 10 overall. Wilson, one of only six FBS wideouts to average more than 95.0 receiving yards and 1 TD per game in 2021, finished his college career at OSU ranked seventh in receiving TDs (23), T8 in receptions (143) and 10th in receiving yards (2,213). Jets head coach Robert Saleh raved about Wilson's mental makeup during rookie minicamp.
"His ability to absorb information and playbook, his drive to be great, the tenacity that he plays with on the football field," Saleh said. "When that ball is in the air, it's his. So, it's just all-encompassing in terms of the way he's wired."
Wilson (6-0, 192), an outstanding athlete who received Division I college basketball offers, posted a 4.38 time in the 40-yard dash in addition to a 36-inch vertical jump. He thrived at both slot and outside the numbers before going out with a bang for the Buckeyes. In his final three games, against Purdue, Michigan State and Michigan, Wilson had at least 100 yards in each contest and totaled 27 catches for 371 yards and 6 TDs.
"He's another speed guy, he's got the whole repertoire in terms of the route tree," Saleh said. "He's got great body control and he's a lot stronger, you see him, and he looks a little slight, but he's actually very strong. He plays the game very strong, he's got great range, he's got really good speed. So, he's another guy that he can win one-on-one, which, obviously, when you look at Buffalo, New England, Miami, they're man-to-man coverage teams."
And while he's not new, first-team All-Pro returner Braxton Berrios re-upped with the Jets in free agency following a career year with 46 receptions and 431 yards receiving.
"My job is to prove to everybody again – Zach [Wilson], the coaching staff -- that I can do it and I can do it consistently like I did toward the end of last year," he said. "That's where my focus is. Just helping this team and proving day-in and day-out that I can consistently help us win."
Players to Watch
Elijah Moore, a second-round pick of the Jets in 2021, got on a heater from Weeks 7-12. In six games, Moore had 34 catches, 459 receiving yards and 5 TDs. If Moore had that kind of production over a 17-game season, the numbers would be astounding: 96 catches, nearly 1,300 yards receiving and 14 TDs. After Moore went off against the Dolphins in Week 11 for 8 catches, 141 yards and a 62-yard score, he was saluted by a three-time Pro Bowl cornerback who has twice led the NFL in interceptions.
"He's going to be special in this league," Miami cornerback Xavien Howard said of Moore. "He's a smaller guy, quick guy. He made some tough catches out there, and I respect his game."
With the addition of the versatile Wilson at WR, the Jets will field two receivers who can line up anywhere and OC Mike LaFleur won't lack for options. While Wilson will have to adjust to the professional game (Moore had 9 catches in his first five games), Moore could immediately surge as a sophomore.
"It allows you to isolate players in different parts of the offense," Saleh said of the Moore/Wilson position flex. "As everyone is aware, guys are interchangeable. You can line up at the slot, you can line up at Z, X and it's about creating opportunities for those guys to get the football. When you're interchangeable and you have so many interchangeable pieces, for sure, it does become easier to find ways to get them the football."
Key Question
Will the Jets have a clean bill of health at receiver? Corey Davis got off to a hot start to his Jets' career with 2 TDs vs. Carolina in Week 1, but his season ended after 34 receptions in nine games due to a season-ending core muscle operation. Moore, who spent time on the team's Covid-19 list, also landed on injured reserve with a quad injury and was limited to 11 games. Davis (6-3, 209) provides good size on the outside for a group whose top four could feature Wilson (6-0), Moore (5-10) and Berrios (5-9). The Jets have blazers atop the depth chart with two sub-4.4 performers in Wilson and Moore plus a 4.4 guy in Berrios. Davis also can get down the field and it wouldn't be wise to overlook Denzel Mims, a 6-3, 207-pounder with 4.38 wheels. Can Mims make a push in camp after a difficult second campaign? Finally, who will lead the Jets in receptions? Veteran slot Jamison Crowder signed with the Bills in free agency following a three-year run with the Green & White that saw him pace the in club in receptions each year with 78 (2019), 59 (2020) and 51 (2021).