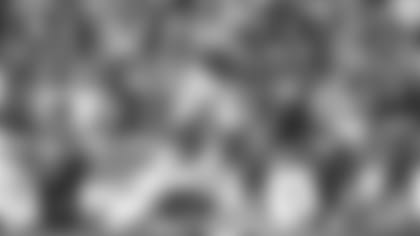 The Jets faced off against Bills quarterback Josh Allen for the first time Sunday and they forced him into three turnovers in a 27-23 come-from-behind win.
While Allen tasted success on the ground early for a third consecutive week, the defense held the Bills to just a pair of field goals in the second half and eliminated the ground assault from the No. 7 overall pick in April's draft.
The 6'5", 237-pound Allen, who missed the teams' Week 10 matchup at MetLife Stadium because of an elbow injury, amassed 87 yards on the ground and one touchdown in the first half as the Bills took a 17-13 heading into intermission.
On Buffalo's first possession, Allen led the team on an 11-play scoring drive that culminated with his 6-yard rushing score. Allen accounted for 48 of the drive's 73 yards on the ground, including a 31-yard scamper.
"He's a heck of an athlete," head coach Todd Bowles said. "We had him covered in the first half we just couldn't catch him. We had guys assigned to him and he out-athleticized our guys. We adjusted and put a quicker guy there in the second half and they made some plays."
The Jets defense tightened up and forced two turnovers in the half, the first being a Kevin Pierre-Louis strip-sack recovered by safety Jamal Adams. Shortly thereafter, kicker Jason Myers hit his first of two field goals with a 47-yarder.
Later in the second quarter, cornerback Trumaine Johnson picked off Allen on the heels of a Brandon Copeland pressure. Copeland flushed Allen out of the pocket and the gunslinger launched the ball downfield while off balance.
Johnson later sealed the victory in the fourth quarter with his second interception and third in the last two games.
"It feels good anytime we can create a turnover," Adams said. "I got to score, I just got to score, but I'm so happy for Trumaine getting two interceptions and sealing the game."
The Jets defense harassed Allen all afternoon, racking up three sacks along with 10 QB hits and making him pay for his efforts as a ball carrier.
Through the air, Allen completed just 50 percent of his passes (18-of-36) for 206 yards and no touchdowns. He was neutralized as a rusher in the third and fourth stanzas, held to just 14 yards.
"We just had to close the pocket, keep him in contain," Adams said of Allen. "Obviously, it's hard to do that, he's a phenomenal runner. At the end of the day, we did our job and executed it when we needed to do it."