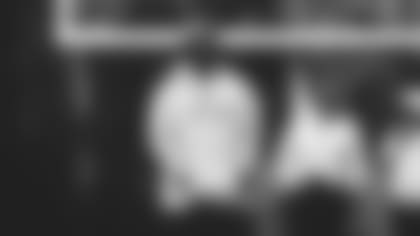 Despite a 14-year age difference, Jets head coach Todd Bowles' has a long-standing relationship with Bears head coach Matt Nagy that dates back to Bowles' high school football days for the Elizabeth High School Minutemen.
"Matt's dad was my high school defensive line coach from when I was at Elizabeth," Bowles said. "I watched Matt grow up and go to Delaware and play football after that a little bit. We coached together in Philadelphia. So, I've known Matt pretty much his whole life. His dad is a heck of a guy and I've known him pretty much, it seems like forever. Outstanding coach, very intelligent."
Bowles said the younger Nagy is a little more strategic and reserved than his father considering his father is "a little crazy in a good way."
"The only thing I ever heard about growing up was about this great player by the name of Todd Bowles," Nagy told reporters earlier this week. "I got his Topps playing card back in the 90s when he was with the Redskins. It was one of the first cards I ever got.
"I got to coach with Todd in Philadelphia. I have all the respect for him. I think he's a hell of a person, hell of a coach. He's real good people."
After discussing their relationship, Nagy credited the Jets defense that's tied for third in the NFL with 15 takeaways and ranks 5th in third down and red zone defense.
"It doesn't shock me how well they're flying around in the different things that they're doing," Nagy said. "It's a good football team that we have to be prepared for in a lot of different ways."
Conversely, Bowles referred to the Bears offense as explosive with the likes of wide receivers Taylor Gabriel and Allen Robinson in addition to running back Tarik Cohen, who's also a threat in the pass game. Cohen ranks second on the Bears with 29 receptions and 328 yards, one catch and one yard shy of Gabriel for the team lead. Lastly, Bowles credited the play of second-year quarterback Mitchell Trubisky, who's thrown for at least 300 yards in each of his last three games.
"He's extremely mobile," Bowles said. "He gets out of the pocket, he's their second leading rusher if I'm not mistaken. He runs the ball very well, he gets in and out of the pocket, he throws the deep ball, he throws the quick balls. His command of the offense in year two is very much more sound than it was the first year, just being a rookie, and it should be. But he's playing well."