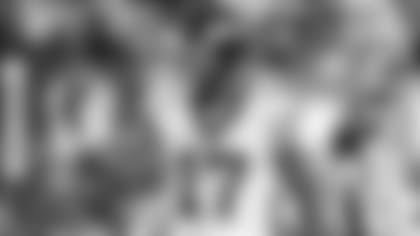 The Jets continue their post-Aaron Rodgers-injury march into Game 2, some would say grimly, some confidently, some defiantly. But Jets head coach Robert Saleh says, despite losing No. 8 for the season, his team has no intention of feeling as if it's behind the eight-ball for the season.
"Everyone believes in themselves," Saleh said. "And we believe we have a really good football team."
QB Zach Wilson's role and the team's presence in the season-opening overtime victory over the Bills was noted by young veteran CB Sauce Gardner: "He stepped up, offense stepped up, defense stepped up, and especially special teams stepped up. I feel like we played complementary football."
Next up, the Jets hope not to compliment Dallas too highly and come out of AT&T Stadium with a road win after playing in the Cowboys' home opener (and Dallas is 9-3 in its last 12 HOs). In honor of the "whole team" approach the Jets took to beat the Bills, here are six Jets to watch, from each of their three units, in only their second visit to spacious AT&T to play the Pokes:
QB Zach Wilson — The spotlight is and will be on Wilson all season following Rodgers' injury. Wilson got better in the second half and earned the victory in long relief over Buffalo, but Dallas is a different breed of cattle. The Cowboys would love to launch ends Osa Odighizuwa and Dorance Armstrong, LB Micah Parsons and the rest of the Cowboys rush as they did in posting seven sacks of the Giants' Daniel Jones. Wilson will need near-flawless protection, especially by LT Duane Brown and RT Mekhi Becton, if he is to operate efficiently in the pocket and find his receivers, especially as he did on third down four times vs. the Bills, and not serve up untimely turnovers.
WR Garrett Wilson — Wilson started his NFL year two slowly Monday. But as Z.Wilson recounted, "You know G, that dude's pushed me all day to throw the fade, throw the fade, throw the fade." Finally they did collaborate on the fade, with Garrett making the double-clutch on-his-back grab with 4:55 to play in the fourth quarter to give the Jets the offensive TD they needed to build their comeback win. If Z gets the time and the field position, it will be interesting to see what G and Allen Lazard (Z-II?) can do, both on third downs (two conversion catches each vs. Buffalo) and on the fade and other patterns vs. Dallas corners Stephon Gilmore and Trevon Diggs (yes, Stefon's brother).
DL Carl Lawson — Expect Lawson, held out of the opener due to his achy back and to avoid a short week of recovery, to be shot out of a cannon against Dak Prescot. The Cowboys QB went sackless in the opener at the Giants and was taken down just 20 times last season. But Lawson, Quinnen Williams, John Franklin-Myers, Quinton Jefferson (team-leading two sacks vs. Bills) and the rush will still do a great service for the Jets' defense since the Pokes had a tame offense vs. Big Blue (265 yards) and a couple of half-field TD drives. If Lawson can generate pushback against LT Tyron Smith and rush Prescott's delivery, downfield connections should be adversely affected.
CBs Sauce Gardner and D.J. Reed — CeeDee Lamb (4-77) and Brandin Cooks (2-22) had middling numbers vs. Big Blue, and Cooks came out with a sore knee. But HC Mike McCarthy said Cooks "has a chance" to play vs. the Jets, so it's on the Jets' top-shelf corners, backed by suddenly ballhawking S Jordan Whitehead (3 INTs to lead the NFL) to keep a lid on Lamb (107 catches, 1,359 yards, 9 TDs last year) and Cooks (6 career 1,000-yard receiving seasons, in his first season with Dallas). And those picks that Sauce and the DBs want must continue to flow as they did vs. the Bills to keep the Cowboys out of the end zone and give the Jets offense some short fields to work with.
PR Xavier Gipson — Can the undrafted rookie do it again? Saleh said he'd speak for his locker room, saying after Gipson sped to his 65-yard game-winning punt return, "We knew he was going to get one today. We just had a feeling." Gipson is only the fifth Jets special-teamer all-time to score on a game-winning (final 2 minutes/OT) return, and as one might expect, his 33.0-yard average on two returns leads the NFL. McCarthy's Cowboys since 2020 have been good vs. punt returns, not as strong on KO returns. But with rookie Brandon Aubrey going 8-for-8 on KO touchbacks vs. the Giants, the issue will be the punt cover team needing to be on its P's and Q's to prevent X from doing special damage in Big D.