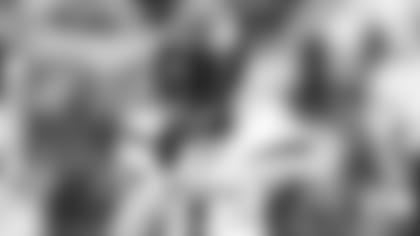 The Jets and Chargers present intriguing storylines for ESPN and their Monday Night Football audience. Are the Jets good or lucky, sitting at 4-3 and on a streak of tight victories by 10, 6 and 3 points? Are the Los Angeles Chargers flawed or unlucky, coming in at 3-4?
Answers will be provided when the often struggling Jets offense goes up against the low-ranked Chargers defense, and when the top-10 Green & White defense comes to grips with QB Justin Herbert, WR Keenan Allen, RB Austin Ekeler and the 'Bolts' top-10 offense.
Don't overlook the Jets specialists, who provided the winning edge in the soggy comeback win over the Giants. And maybe Darrelle Revis receiving his Pro Football Hall of Fame Ring of Excellence during the game will give the home team a lift as well.
Head coach Robert Saleh knows the next month will be crucial in determining which kind of team these Jets are — after the Chargers comes a short week and long trip to play the Las Vegas Raiders the following Sunday night, then two division games, at Buffalo and home for Miami.
But Saleh isn't looking past Monday — "We're in the moment," the Jets HC said. And LB Quincy Williams, the AFC Defensive Player for October, is looking ahead only to performing in the warm glow of an important home night game.
"Really bright lights, the crowd will be rocking," Williams said. "And with it being a primetime game also, I'm expecting a lot of energy, for real, for real." Only appropriate, playing the Chargers.
These six players are among the Jets to watch when they try to end their four-game losing streak to LA while extending their current win streak to four:
QB Zach Wilson — Wilson will need more than his "superpower," which has been leading the Jets on fourth-quarter comebacks and game-winning drives. Some of the offense's other numbers, such as third-down conversions, first downs, total touchdowns, red zone TDs and passing yards are at or near the bottom of the NFL rankings. This looks to be a great spot to work on the issues and get in a passing groove — the Chargers are 32nd in net passing yards/game (297.4), yards/pass play (7.80) and first downs allowed/game (23.6). It's a chance for the QB and receivers Garrett Wilson, Allen Lazard and Tyler Conklin to take star turns on their home national primetime stage.
Jets Offensive Line — For our second offensive "player" to watch, we're cheating with a group shot. LT Mekhi Becton, LG Laken Tomlinson and RT Max Mitchell should be ready for their closeups but Saleh and his staff are still going over the permutations at C and RG after losing both Connor McGovern and Wes Schweitzer to IR vs. the Giants. Will it be Joe Tippmann back in action and snapping to Wilson alongside Xavier Newman? Or will it be Newman at C with Tippmann or Billy Turner at G? And the backups? Many question need answers to keep Wilson and RB Breece Hall out of the clutches of now healthy Pro Bowl LB Joey Bosa and professional sackmaster Khalil Mack.
DL Bryce Huff — Huff, despite playing just 175 defensive snaps, sixth among Jets linemen and 14th on the defense, leads the Jets with 3.5 sacks and 9 QB hits. Huff's rate of a QBH every 18.4 snaps is 2nd-best for all NFL defenders with at least 100 snaps, trailing only the Browns' Myles Garrett (18.0). Herbert is highly productive (101.1 passer rating), not turnover-prone (4 INTs, no lost FUMs) and decently protected (15 sacks), but his worst game came at KC two weeks ago when the Chiefs sacked him 5 times and picked him twice in the Bolts' 31-17 road loss. The Jets can crackle if Huff, Jermaine Johnson, Quinnen Williams, John Franklin-Myers and the Jets' pass rush can produce similar results.
CBs Sauce Gardner, D.J. Reed and Michael Carter II — It seems that WR Keenan Allen has been averaging 100 catches, 1,200 yards and 6 TDs forever for the Chargers, but it's only been since 2017. He missed some games last season so his numbers slumped, but he's back on his productive pace again as Herbert's favorite receiver. And he lines up all over the formation so all the Jets corners should get multiple chances to cover Allen and keep him from going off like he did in Week 3 at Minnesota for 18 catches and 215 yards. And while they're at it, the corners could contribute bigtime with a few Herbert picks to get the Green & White takeaway train back on the tracks after no TAs vs. the Giants.