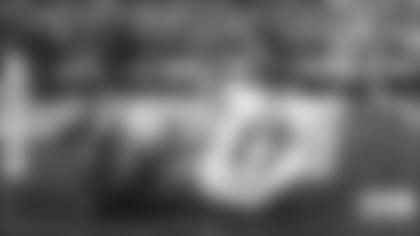 Next up for the Jets are the Bills in Orchard Park, NY, late Sunday afternoon. And there are a lot of reasons for the Green & White to want to deal a loss to their AFC East brethren.
For one, Buffalo is a division rival, and at 5-5 the Bills are within a half-game of the 4-5 Jets. A win allow the Jets to move ahead of the Bills by a half-game. That's not much, but it could be the start of building a wild-card playoff edge.
For another, a Jets win, combined with their 22-16 overtime opening-night victory rising from the ashes of Aaron Rodgers' Achilles injury, would give them their first season sweep of the Bills since 2016.
But as any coach will tell you, the most important reason of a win is because it's the next win, no matter who it comes against, for your fans, your team, yourself. The Jets need touchdowns and a victory, two elements that have eluded them for the past two weeks. Buffalo just happens to be next on the schedule.
But the Bills will be tough, in part due to the unknowns of head coach Sean McDermott's midseason switch of offensive coordinators from Ken Dorsey to Joe Brady. Jets HC Robert Saleh says whatever changes, Bills will be Bills.
"They are who they are. It's an extremely talented football team," Saleh said. "They're still a top 10 offense despite changing coordinators. ... Josh Allen is one of the better quarterbacks in football. They've got tremendous skill, guys all over the place. Their offensive line is good, they're explosive as heck. So we're still expecting to see those guys."
Here are six players to watch as the Jets attempt to secure their first win at hostile Highmark Stadium since 2019 when they fashioned a one-touchdown, season-ending 13-6 win.
WR Garrett Wilson — There's no question Zach Wilson and Garrett Wilson are finding a connection. Garrett has only one 100-yard game — exactly 100 in the road rain against the Giants — but in all of his last four games, he has had at least 12 targets, seven catches, 80 yards and one catch of 29 yards or better. There's a feeling Z.Wilson-to-G.Wilson could have a breakout game soon, and when that happens, it could pull RB Breece Hall, WR Allen Lazard, TE Tyler Conklin and the offense along with them. And who better to break out against than their AFC East friends but rude division hosts who have beaten the visitors from the NYC market three times in a row and eight of their last 11 meetings.
LT Mekhi Becton — Von Miller is a Pro Football Hall of Famer still in uniform. He has 123.5 sacks in his 13 pro seasons, most with Denver but the past two with the Bills. He still looks formidable coming off his right end. Becton, debited unofficially with seven sacks (but no holds) and still holding up well at LT, had a one-word answer when asked if he's ready to face Miller: "Yup." But some folks in Bills country are asking if it's time for Von to move on to retirement. He's been slow to come back from last season's knee surgery, with two tackles, one QB hit and no sacks on 126 defensive snaps over six games. Becton keeping Miller away from QB Zach Wilson in the pocket will be an offensive key.
RB Israel Abanikanda — It's almost unfair to swing the spotlight onto Izzy. The fifth-round rookie speedster from Pitt has been inactive for the first nine games, and while he's expected to make his Jets debut at Buffalo after Michael Carter's release, there are no guarantees how much time he'll see. But the promise, from his college résumé to his preseason appearances (team-leading 113 rushing yards and 150 scrimmage yards plus a rush TD in the preseason opener at Cleveland) to his positive nature and possible impact on the Jets offense. "I'm just excited to see what he can do," Zach Wilson said. "I think he's a great player that just does all the right things."
DL Quinnen Williams and John Franklin-Myers — We all know Josh Allen is a crafty, elusive, highly productive QB. We also know he turns the ball over — 80 times since 2019 and 14 times this season also tops the NFL charts, and his 17 giveaways to the Jets are the most generous he's been to any opponent since his 2018 rookie season. He's also sackable, which should allow the Jets front four some opportunities to separate Josh from rock. Bryce Huff is hot and his late sack last year iced the home win over the Bills. But the defenders consistently spending quality time in Allen's kitchen are Williams (4.5 sacks, 9 QB hits in 9 career meetings) and JFM (one sack but 7 QBHs in 6 games).
S Jordan Whitehead — Who can forget Whitehead's interception trifecta against Allen on opening night, helping set up Xavier Gipson's OT return heroics? Some fans may have forgotten, since he then went seven games without a pick. But J-White got No. 4 against Aidan O'Connell and the Raiders, which places him second among NFL safeties behind only the six of the Ravens' Geno Stone. Naturally, it will be fun to watch Sauce Gardner and D.J. Reed duel with Buffalo WRs Stefon Diggs and Gabe Davis, but Whitehead will be ready to snap up any stray Allen passes to those two as well as to fairly prolific rookie TE Dalton Kincaid.