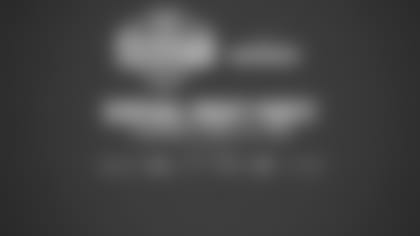 The Jets will host their first-ever Virtual NFL Draft Party presented by Verizon on Thursday, April 23rd at 7 p.m. Streaming on all Jets properties including Facebook Live, the Official New York Jets App, Twitter, YouTube and newyorkjets.com, the show will feature appearances from Jets GM Joe Douglas, current players and Legends, draft analysis from Jets reporters and insiders, fan Q&A, and more.
The Jets Virtual Draft Party is supported by NY Daily News, Dell Technologies, Dunkin, Pepsi, SAP, and Toyota.
For over 20 years, the Jets have hosted a draft party for their fans. During this difficult and unusual time, the team wanted to continue the tradition in a safe, interactive and technically advanced way. The Virtual Draft party will be hosted by Jets Radio personality Bob Wischusen and Jets 360 Senior Reporter Eric Allen, and will include a variety of interviews, analysis and insider content from Jets 360 reporters Ethan Greenberg and Olivia Landis also featuring NFL Network Analyst Brian Baldinger and Jets Legend Anthony Becht. To adhere to proper social distancing guidelines and local workplace rules due to COVID-19, all talent will be live from their homes.
During the Virtual Draft Party, fans can participate, comment and ask questions through a live chat at the bottom on the stream or the comments section on Facebook Live and YouTube. Fans will have a chance to ask questions of the host and will be highlighted throughout the party.
Additional Virtual NFL Draft activities for Fans include Jets Draft Challenge Presented by Verizon, Jets Virtual Inner Circle and the NFL's "Draft-A-Thon".
To sign up for more information about the Jets Virtual Draft Party presented by Verizon, visit nyjets.com/draftparty.
SNY Jets Nation: Draft Day Special
Tune in to SNY from 6:30 p.m. - 7 p.m. for a comprehensive look into the players the Jets may be targeting in the 2020 NFL Draft. Hosts Jonas Schwartz and Jeane Coakley will be joined remotely by Jets analysts Ray Lucas and Bart Scott, as well as SNY NFL Insider Ralph Vacchiano. For more information, visit. sny.tv/jets.
Jets Draft Challenge
Beginning today and running through April 23 at 7:59 p.m., fans have the opportunity to enter the Jets Draft Challenge. The fan that accurately predicts the most first round picks in this year's NFL Draft will win a VIP luxury suite for the Jets home opener at MetLife Stadium. For more information, visit JetsDraftChallenge.com.
Jets Fans Virtual Inner Circle
To virtually replicate the on-location Draft day experience for Jets Fans, the team will host a virtual inner circle during each of their draft picks on the first two days of the draft. While each pick is announced, 15 Jets fans, made up of Jets Fan Hall of Fame members and select Season Ticket Holders will appear on screen behind the Commissioner.
NFL "Draft-A-Thon"
As previously announced, the NFL Draft will also feature a "Draft-A-Thon" which will serve as a three-day virtual fundraiser benefitting six charities – selected by the NFL Foundation – that are battling the spread of COVID-19 and delivering relief to millions in need.
As part of their #STAYHOMESTAYSTRONG campaign, the Jets will encourage fans to begin donating when the team is on the clock in the 1st Round of the Draft Thursday evening. Funds raised during the "Draft-A-Thon" will be directed through the United Way COVID-19 Community Response and Recovery Fund to local United Ways. This fund is designated to help those in need access food and shelter, provide childcare for first responders and more, while bolstering 211, United Way's go-to information resource in times of crisis.