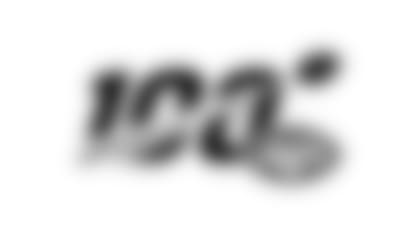 As part of the NFL 100 celebration, the New York Jets will host a fantennial weekend beginning Friday, October 11 through the Week Six matchup against Dallas on Sunday, October 13. With more than 120,000 fan votes casted online, the celebration will reveal the Jets all-time team, who will be honored in a special pregame ceremony. The weekend will also include a special Jets NFL 100 Fan Fest with the all-time team members at MetLife Stadium, and a special Friday Night Lights game at a local high school.
The weekend will kickoff at Hanover Park High School on Friday, October 11th as the Jets host their Friday Night Lights game when the Hornets take on the Hackettstown High School Tigers. The Jets will incorporate their gameday entertainment elements throughout the night, including Jets Fest, Legends appearances, Flight Crew Cheerleaders, in-stadium announcer Joe Nolan and in-game DJ Jon Black. Additionally, the game will be broadcasted live on Verizon Fios 1 as the High School Game of the Week and streamed on New York Jets digital platforms. The Jets will also donate a renovation of the Hanover Park High School weight room as part of their Hometown Huddle program.
The celebrations will also continue Saturday when the team hosts the Jets NFL 100 fan fest on the field at MetLife Stadium, which season ticket holders will have the first opportunity to attend. Fans will have the opportunity to receive autographs from select all-time team members, as well as partake in a special Q&A session with select members of the all-time team. Beginning Friday, September 20, Season Ticket Holders can redeem free tickets for the event. Upon egress, all fans in attendance will receive a special Jets all-time team commemorative poster.
To conclude the weekend's celebrations, the Jets will host their all-time team at the Week Six game against the Cowboys for a special pregame ceremony. Additionally, all fans in attendance will receive a Spotlight White Fantennial rally towel, courtesy of Glad and Clorox. This will be the first time that fans have selected the Jets all-time team. Of the online fan votes, one lucky winner was selected to receive season tickets for the 2019 season.
As part of the celebration, Jets season ticket holders will have a chance to win a Jets NFL 100 experience of a lifetime by entering a sweepstakes on Jets Rewards. The winner will run out of the intro tunnel with the Jets all-time team and will sit in a suite with Jets Legends.