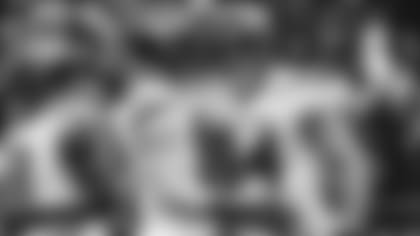 Table inside Article

| Player | GP/GS/DNP/IA | Off/ST Snaps |
| --- | --- | --- |
| Ryan Griffin | 13/13/0/0 | 662/158 |
| Daniel Brown | 16/4/0/0 | 296/299 |
| Trevon Wesco | 16/1/0/0 | 214/77 |
| Chris Herndon | 1/0/1/2 | 18/0 |
| Ross Travis | 0/0/0/1 | 0/0 |
Injured Reserve: Griffin, Herndon
Potential Free Agents in 2020
Unrestricted: Brown
Looking Back
Tight end Chris Herndon was a candidate to have a breakout season in 2019 after a promising rookie campaign. Herndon, a fourth-round pick, had 39 catches for 502 yards and 4 touchdowns in 2018, but only played in one game this season. He missed the first four games because of a league suspension and hurt his hamstring on the heels of his suspension, which caused him to miss Weeks 6-9. Herndon cracked his rib in his season debut against the Giants and was placed on injured reserve two days later.
Ryan Griffin, who started in Herndon's place, provided a bright spot for the Jets. Griffin signed with the team July 22 and signed a multi-year extension four months later. Griffin reeled in 34 passes for 320 yards and a career-high 5 touchdowns in 13 games, but his season was cut short because of an ankle injury.
"We're lucky we have him," Coach Adam Gase said of Griffin earlier this season. "He has been probably our most consistent guy throughout the entire year. His play is not peaks and valleys, he just consistently gets better, he makes plays. When his numbers called, he makes the play."
Quarterback Sam Darnold added: "I didn't know much about him before we picked him up, but right when he got in here, I knew the kind of guy he was. I knew he was going to work hard, do all the right things off the field. Then once he got on the field, I knew we had a special guy in this locker room and a special player."
Looking Ahead
The Jets had four tight ends on their roster in 2019 and Daniel Brown is the only one set to hit free agency. Brown was a contributor on offense — 7 receptions, 72 yards, 1 TD — and special teams — 11 tackles, which ranked third on the team. Herndon, Griffin and rookie Trevon Wesco are all under contract for next season. Wesco primarily served as a blocker this season. He had 2 catches for 47 yards this season.
"I think development is the key word because I think he's developing," TEs coach John Dunn said of Wesco. "He's obviously had a big learning curve, but one thing about that kid — he loves playing football. The technical part of it, he's improving every day. He takes pride in what he does, but he works his tail off and he loves playing. He's a physical player. I think that kind of shows up when he plays. I've been happy with his development. Obviously, he still has a way to go, but he's certainly been improving throughout the season."
Gase referred to Herndon as a "unicorn type of player" at last year's NFL Combine because he's effective in the run game, pass protection and as a receiver. Tight ends are asked to wear many hats in Gase's offense, which is why both Griffin and Herndon enjoy the scheme. With a clean bill of health, they could make for one of the better duos in the NFL.
"I'm excited for Chris to get back," Griffin said. "He's very versatile and can do a lot of things very well in this league, and he's a young kid. I'm looking forward to him getting a full season under his belt and under the system as well. When we're both out there I think it opens up the playbook that much more for Coach Gase. I'm really looking forward to seeing what this offense can do with everybody healthy and no nagging injuries, no sicknesses, no illnesses with everybody on the same page."