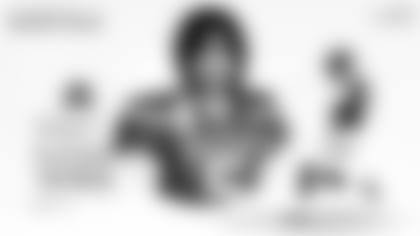 Jets P Thomas Morstead controlled the field position battle in Week 8 placing four punts inside the 20-yard line in the Green & White's 13-10 victory over the Giants. As a result of his dominant performance, Morstead was named AFC Special Teams Player of the Week.
"Our defense is really special," Morstead said emotionally after the grueling and rain-soaked win. "Those guys are coming up to me and telling me not to worry about hitting a touchback. Be aggressive and try and pin them deep. And if the worst that happens is we hit a touchback, they will have to go 80 yards to score. It has been fun to be given that permission."
Morstead punted the ball 11 times in the game for 529 yards (48.1 avg) including three boots that were downed inside the 5-yard line. He also had a punt downed at the 13.
Late in the first quarter, LB Jamien Sherwood downed his first punt at the 2-yard line. Next, CB Brandin Echols down one at the 3. And in the fourth quarter, Morstead bounced a punt out of bounds at the 3.
"We hung in there the whole day," Morstead said. "This has been a really special team to be a part of. No matter how it goes, the guys just keep fighting. To be depended on in big moments is fun and exciting. Just a really cool experience today."
Going back to 2008, Morstead is one of only 15 different players to have three punts land inside the 5-yard line in a game and one of only two in the last six seasons.
"I love that Coach [Saleh] got asked just a few weeks ago after we had back-to-back safeties and he said, 'I like how Thomas is being aggressive,' " Morstead said. "Coach Boyer doesn't always like me going too aggressive, because you don't want touchbacks on the résumé, but it just felt nice to have that public verbiage. It kind of takes the handcuffs off a little bit. It's just fun to be aggressive."
Morstead said he struggled to find a team to sign with over the offseason because of his age (37) and after the game, he was noticeably emotional and thankful for the opportunity.
"No one would sign me because I was old," Morstead said. "Today was a full-circle moment for me."
This season Morstead is No. 2 in punts (40) and punt yardage (1918) and No. 4 in fewest punt return yards allowed (119, min. 30 punts)
"Morstead had an MVP performance Sunday," GM Joe Douglas said. "Man, I love that dude. … When you can pin an opponent inside their own 5-yard line, those are game-changing plays."
In addition, Morstead joins K Greg Zuerlein who won the same award in Week 5 vs Denver and had a near equally impressive performance Sunday. He connected on a 35-yard field goal as time expired in regulation to tie the game 10-10 and a 33-yard game-winning boot in overtime.