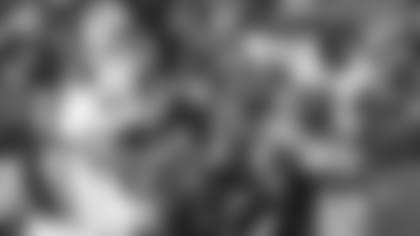 After slaying the cold and Josh Allen last week in Buffalo, Sam Darnold will take on the rain and Deshaun Watson as the Jets and Texans do battle Saturday afternoon at MetLife Stadium.
Watson, who was selected No. 12 overall by the Texans in the 2017 draft, has been outstanding over the course of his first 20 professional games. He passed for 1,699 yards in his first six contests as a rookie and was tied for the NFL lead in passing touchdowns with 19 when he tore his ACL in practice and headed to injured reserve. But after totaling the most passing touchdowns over a quarterback's first seven games since 1970, the 6'2", 220-pound Watson has been equally as good or better in Year 2 while completing 66.9% of his throws with 22 touchdowns and nine interceptions.
"Deshaun is a heck of a player. He played really well last year and like you just said, everyone kind of questioned if he was going to be healthy enough to play and play as well as he did last year, and I think he's living up to it," Darnold reporters this week. "I'm excited to go up against him and that tough Texans defense."
Unlike Allen, who is depending largely on his legs a lot to get the job done, Watson is an extremely accurate passer who also can make it happen on the ground. He is averaging 5.5 yards a carry and has amassed rush 410 yards and he also doesn't mind spinning it on the move.
"Although we may think Deshaun Watson is a runner — he's not, he's a passer," said former Jets QB Chad Pennington. "He tries to remain a passer in the pocket, so just being able to move him off his spot and make him uncomfortable and not allow him to set his feet and make really good throws is going to be the key for the Jets defense."
Watson, who led Clemson to back-to-back National Championship appearances and guided the Tigers to a thrilling 35-31 victory over 'Bama in the 2017 Title Game, can do it all.
"He can beat you in the pocket and out of the pocket. He's a gamer," said head coach Todd Bowles. "You speed him up, he's going to hurt you with his legs and hurt you running out of the pocket. If you don't speed him up, he's going to sit in the pocket and throw dimes on you."
Darnold was dropping dimes late against the Bills, leading the Jets to a come-from-behind victory in his first game action in more than a month. But the Texans will present a more formidable pass rush with DE J.J. Watt (12.5 sacks) and Jack 'backer Jadeveon Clowney (seven sacks).
"You have to know your pocket won't be clean. It's going to be dirty in there, so your pocket movement is really important," Pennington said of Darnold. "But not only your pocket movement, the ability to have slight movement in the pocket and still remain a passer. Don't look to flush all the time because there are going to be some plays that can be made down the field, but those plays have to be made from the pocket."
The Texans pass defense ranks just 24th and they've surrendered a league-high 1,043 net passing yards in their last three games.
"So slight movement, similar to a boxer being able to miss the jab, but then be able to move up and strike with the left or whatever may be. It's the same thing as a quarterback," Pennington said. "You have to be able to miss that three-technique coming at you but still stay in the pocket. Don't flush too early and be able to make some big plays with your arm down the field."
With rain in the forecast, teams typically use wet balls in practice to get acclimated to slick conditions. The red-headed rifleman handled the cold in Western New York and he got the better of Allen in the process. On Saturday, it's another challenge for the rookie against Watson, Watt and probably the wet stuff.