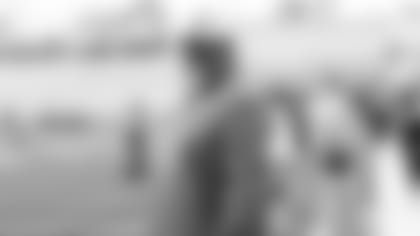 Jets tight ends coach Ron Middleton and the team's new offensive coordinator Nathaniel Hackett go way back, to their days toiling with the Jacksonville Jaguars and before that with the Tampa Bay Buccaneers.
Middleton cannot say the same about the Green & White's new quarterback -- Aaron Rodgers.
"I've had bumped shoulders with Aaron, it's always been cordial and he's always called me by my name," Middleton told team reporter Eric Allen on an edition of "The Official Jets Podcast." "He knew me. I thought it was a big deal."
Hackett had not yet reached his 30th birthday when HC Jon Gruden added him as an offensive quality control coach in 2006 (when Hackett's father, Paul, a former Jets OC, was a consultant with the Bucs). "His dad was Coach, he'll always be Nathaniel."
"I think wide receivers coach Richard Mann allowed him in the room," Middleton said of the younger Hackett. "That's where he cut his teeth. He was smart, energetic and we knew he would go far in this business. Yes, we go way back. I know the guy, I know his quirkiness, but also dare I say, he's a really, really good OC. Very smart, innovative and hard nosed. But he presents it in a way that makes it easier for players to understand. For me, I was hoping it was him that got the job because of our history."
That history also intersected in Jacksonville when the two men were part of the coaching staff as the Jaguars surprised the NFL by getting to within a "quarter and a half" of advancing to the Super Bowl in 1997, losing at New England in the AFC title game. Hackett was the team's OC who got the most out of his players, particularly QB Blake Bortles.
"He knew how to use him,," Middleton said. "Blake wasn't the most accurate passer. What he did bring to the table was grit and toughness second to none. He was a football player. Hack had RPOs for him to carry, play action, [Leonard] Fournette, we rode that horse and set up play action. Then Blake did his keepers and naked bootlegs. Hack used all his weapons, he helped Blake out and didn't ask him to drop back and throw it 50 times a game."
Having worked with Rodgers during their time together in Green Bay, Middleton said that Hackett will have less fine-tuning to do. After all, he's dealing with a four-time MVP and 39-year-old veteran of 18 NFL seasons. In his limited time seeing Rodgers on and off the field, Middleton had nothing but raves about the Jets' No. 8.
"I'm like a fan," Middleton said. "The first day he walked into the building I almost asked for an autograph!"
He added: "After being with him the last few weeks I can say that I've never been around a QB like him. He's an on-the-field coach also. He's been in this system forever, but we've changed some of the names to what he likes. It's definitely his show. He corrects everyone from the running backs to the tight ends coach.
"First of all, he's talented. He's very smart. He's done it all, seen everything and I think he uses his weapons well. So all that to me equals success for 18 years."
As Middleton, his fellow coaches and Rodgers' teammates are learning, the quarterback's prowess and influence extends beyond the field.
"In the meeting room you got to be on your Ps and Qs," Middleton said. "He questions everything. If there's a better way to say it he tries to use that better way. On the field if there's a way he wants a route to be run, then he'll tell them. There's just instant credibility coming from the guy. It told the tight ends that, hey, if this guy tells you something or how to do it, do it, and come and tell me so I can affirm what he said. It's his show. He's earned it. He's been out there with these guys, teaching and working with them, doing the sprints and I think they appreciate that. I mean, it's Aaron Freaking Rodgers."
Middleton is presiding over a deep TE's room, which includes Tyler Conklin and C.J. Uzomah (both of whom were signed in free agency last year); second-year man Jeremy Ruckett; rookie Zack Kuntz; plus Kenny Yeboah. Middleton offered the following assessments after OTAs and ahead of the start of training camp in mid-July:
Conklin: "First of all, I want to see him healthy, he has an abdominal to deal with. What he brings to the table is something Nathaniel will use, and Aaron Rodgers is going to love the guy. He's an explosive route-runner, in his world, the 10-to-12-yard range, he's got some explosiveness. We can really take advantage of underneath coverage, he's enough speed to stretch the field and has a knack for getting in seams. I know Aaron Rodgers likes the deep ball, and he's [Conklin] a viable asset."
Uzomah: "I think we ran a lot of 12 personnel [2 TEs] last season and I hope you get them out on the field. I think we purposely tried to use them and also because they're good football players. They both are part of our best 11. He will make plays when his number is called. I just hope we're on speed dial."
Ruckert: The Ohio State product missed training camp and a good part of the season because of a foot injury, but was noticed by HC Robert Saleh and others for his play at the Dolphins. "We've talked about what he put on tape in the Miami game [the final game of the 2022 season]. It was outstanding that performance going into the offseason. It really put him in a great place mentally, and gave him a lot of confidence. Now he has visual evidence that 'I can do this and do it at a high level.' He's just scratched the surface. We've got to keep him healthy and before long he's going to be a household name."
Kuntz: "He put on a show in his [NFL Combine] workout. He's 6-8 really, really smart. I told him when I gave him my evaluation that he definitely won the interview. Of all the guys I interviewed, he was the best. He talked a good game about how tough and he said all the right things. We're going to have to put that to the test."