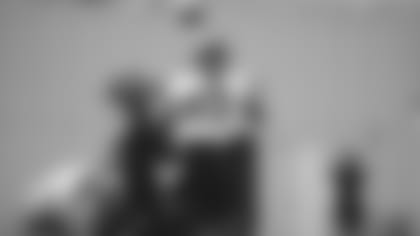 Tight end Tyler Conklin has a unique link to at least four of his Jets compatriots -- call it the Michigan Connection.
Conklin, who signed in free agency with the Jets, is from Chesterfield Township, MI, and played college ball at Northwood (basketball) and Central Michigan. WR Corey Davis starred at Western Michigan. Offensive coordinator Mike LaFleur is from Mount Pleasant. Head coach Robert Saleh is a native of Dearborn who was an all-conference tight end who played at Northern Michigan. Rookie CB Ahmad 'Sauce' Gardner played CB and WR at Martin Luther King HS in Detroit.
The Great Lake State's contribution to the Green & White may be anecdotal, but Conklin's anticipated role -- along with fellow free-agent TE C.J. Uzomah -- is expected to be more tangible.
"I can't wait for training camp," Conklin told team reporter Caroline Hendershot as he surveyed the six-week gap between minicamp and putting on the pads toward the end of July. "It's been too long. I'm excited to play games."
And the Jets are excited about the potential of the revamped tight ends room, which at present includes Conlin, Uzomah, rookie Jeremy Ruckert and converted wide receiver Lawrence Cager. The tight end additions have added a new wrinkle to OC Mike LaFleur's scheme and should provide second-year QB Zach Wilson with a raft of options. And that's certainly not to minimize the impact of the two tight ends in the run and protection games.
Speaking about his attraction to LaFleur's offense, Conklin said: "I love it. It's one of my favorite things and why I came here. It fits my playing style perfectly in the West Coast system. I just think about how innovative and the different things he [LaFleur] does and I'm excited to play in it."
Last season with the Vikings, Conklin had 61 receptions, for 593 yards and 3 TDs. With the Bengals, Uzomah went 49-493-5 -- career bests for each of them. Combined, the numbers equal an exceptional season of TE production: 110 catches, 1,086 yards and 8 TDs. The Jets have never gotten more than 90 receptions from the position in a season, the last time their TEs combined for 1,100-plus yards was 1975, and the last time they had 9-plus TDs from their TEs was 1993.
Now, with the return from injury of WR Davis, the drafting No. 10 overall of Garrett Wilson, the re-signing of Braxton Berrios and the continued development of Elijah Moore (and others), Zach Wilson will have multiple options stretching the field and hunting for big plays. That, in turn, should open ample opportunities for QB-to-TE combinations underneath that could result in chunk plays.
"I'm really excited [about playing with Wilson]," said Conklin, who will turn 27 on July 30. "I love his arm talent, his arm angles and the way he can throw. It's a catchable ball. He's got a quick release and is super athletic. He's also a mobile quarterback who is able to get out of the pocket to make big plays."
Moving from the Vikings to the young and emerging Jets has energized Conklin as he settles into a new locker room.
"The whole locker room is awesome," he said. "Coming from Minnesota, we were a little older team. Here nearly everyone is young. We have fun at practice. And the whole tight ends room is great. C.J. is a great guy, always happy and positive. I look forward to playing with him side by side."