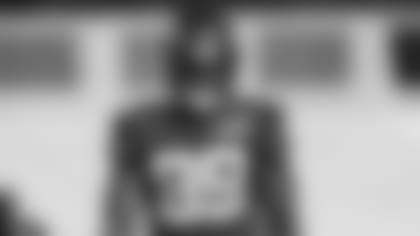 After learning that he will be required to serve a four-game suspension due to a violation of the league's substance abuse policy, Jets tight end Chris Herndon is focused on looking ahead and staying ready for when his name is called again in game action.
"You know I've just got to deal with this. It's a mistake I made so I have to deal with the consequences. I'm just going to try my best to stay as prepared and stay as ready as I can be and move on from it," Herndon told reporters Thursday. "I'll be putting in extra work in the film room, extra conditioning and extra studying to make sure when that time comes, I'm ready."
The 6'4", 253-pound veteran's absence will certainly be felt on offense after Herndon's standout rookie campaign. He had 39 receptions for 502 yards and four touchdowns —with both his receptions and TDs leading all rookie TEs in 2018. Despite having to sit out the first four contests, Herndon continues to remain positive.
"Whatever my coaches sit me down and tell me what they want me to prepare for and what they want me to study, I'm just going to do that," Herndon said. "I'll make sure I'm conditioned well and make sure I'm running every day because when I come back it's not going to be camp time. It's going to be everything counts, so I'm going to come back as ready as I can."
Jets head coach Adam Gase, who was hired after Herndon's rookie success, wasn't taken back by the news of the suspension. With training camp only beginning, Gase and his offensive staff have some flexibility to start planning for the Miami product's time away.  
"We knew it was coming," said Gase. "When you get the news and you just find out about it, you know that's the reality of it and you have to make adjustments. You have to start thinking, 'Okay how are we going to deal with this?' And in that first part, how are we going to handle training camp, what personnel groupings and who's doing what? So I just take some time to think of all the little steps that we're going to have to take."
Joe Douglas, who came on board as the Jets new general manager last month, has already begun thinking of the "little steps" that will be required to fill the gap with Herndon gone. Two of those steps included signing Temuchin Hodges and former Texans' TE Ryan Griffin.
"What's interesting is his (Griffin) name came up a little bit in June and it just happened to work out the later we got, and Joe and his guys were just looking through tight ends," said Gase. "I mean we're a little light there right now anyways. We were looking to add guys and he had an interest, so we got something worked out."
Herndon will continue to be a full participant during training camp and the preseason. And after serving his four-game suspension, he is scheduled to make his return in Week 6 when the Jets host the Cowboys in October.
"When the time comes for me to come back on the field with my teammates, I'm going to make the most of it and not take anything for granted," Herndon said.