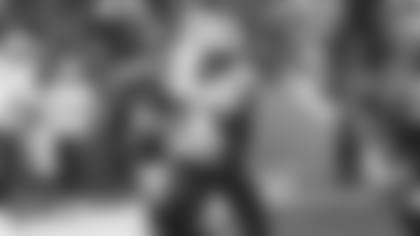 As the Jets hit the quarter pole of the regular season, tight end Chris Herndon is ready to fight.
"Just as a team, finishing as strong as possible no matter what the record is or what the score is at the end of the game," said Herndon of his goals in the final four games. "As long as we continue to fight, support one another and finishing strong as we can, that's what I'm looking forward to."
The Jets' first test in the final quarter of the season comes against a Bills defense that leads the league in allowing 187 passing yards per game.
"You just see everyone doing their jobs, knowing what to do each and every play," Herndon said. "You see them holding each other accountable. At the end of the day, that's going to add up with that type of ranking."
Herndon, whose team-lead-tying three touchdowns are tied for the second most scores by a rookie tight end, has become a fixture in the Green & White's offense as he's third on the team in 345 yards and 28 completions. However, the Miami product only tallied one reception for three yards against the Bills in Week 10 as the Jets totaled 116 passing yards in their 41-10 loss. The rookie said knowing what to expect from the Buffalo defense is helpful, but only to a certain degree.
"You can't really depend on last game and what you saw," he said. "You have to continue to study, take notes, watch film on your own and get on that practice field and take it as seriously as possible."
The fourth-round pick began to hit his stride against the Colts as 298 of his 345 yards have come in Weeks 6-13. Herndon became the first Jets rookie tight end to record a touchdown reception in three consecutive weeks and is the second rookie at any position to accomplish the feat (WR Keyshawn Johnson, 1996).
"I hope he just continues to grow each and every week," tight ends coach Jimmie Johnson said before the Titans game. "He's a rookie, he still makes rookie mistakes. But you can see where he's come from the beginning of the season to now. We're excited for him moving forward to these last five weeks. He's getting better every week."
Johnson likes that Herndon is a complete tight end as he's not afraid to stick his face in the fan in the run game and has also been solid in pass protection. The 6'4", 253-pound Herndon has been studying more, asking more questions, taking better notes and reviewing everything before he hits the hay.
"It's kind of what we envisioned when we drafted him, being able to be a complete tight end," Johnson said. "He's been a pleasant surprise this year."
Top Photos from Thursday's Practice During a Chilly Thursday in Florham Park