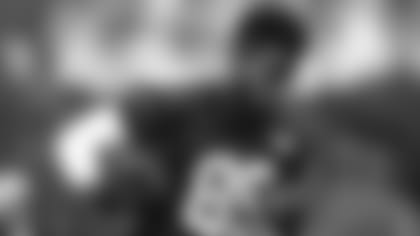 He's only entering his second season in the league, but tight end Chris Herndon is already sounding like a well-seasoned vet. When it comes to stepping up his responsibility on the Green & White, he may have personal goals but the University of Miami product is still looking at the bigger picture.
"I want to improve from last year. I want to continue to do what they [the coaches] ask of me and even more," Herndon said. "Just try to be that player that takes that next step and be more dependable in games and try to put more on my shoulders and more on myself to hold myself more accountable."
As far as accountability goes, the 6'4", 253-pound TE played his part last season. And he played it well. In his rookie year, Herndon recorded 39 receptions for 502 yards and 4 touchdowns – three of which came in consecutive weeks – leading all NFL rookie tight ends in both receptions and TDs.
Through a disciplined routine and mentality, Herndon was, and should continue to be a staple in the Jets' offense.
"Staying focused and not being complacent. Not trying to focus on what I did the previous week or the previous play and having the next-up mentality for the next play," Herndon said about how he achieved his rookie success. "Trying to bring my all to each practice, each workout, each meeting, and hoping it translated to the game. I feel like it worked pretty well for me."
While the 23-year-old laid a sturdy foundation in 2018 – a year he described as being "put in the fire" — his expectations for 2019 are even higher. As head coach Adam Gase and his strategic offensive mind come into the picture, Herndon is learning his third offense in three years. And even though that can be a challenge, he's ready to play a larger role on the team.
"You never know what's going to be thrown in the next day, so before you move on you have to make sure you have what you learned today down because it's not going to slow down any more than it already is," said Herndon. "So staying on top of things and constantly studying and constantly asking questions and making sure that you're not making the same mistakes from the previous practice will help."