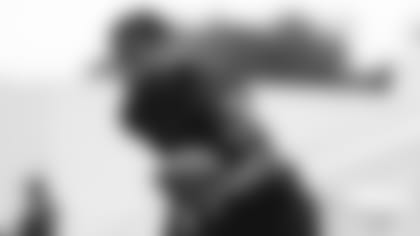 After a lost 2019 campaign, Jets TE Chris Herndon is embracing the moment at hand. With training camp underway, Herndon has a fresh start and he says he has come back to Florham Park a changed man.
"My body is feeling good," he told reporters this week. "I'm in a good space mentally and I'm just excited to be back with my team and put in the work with them again."
A fourth-round pick out of Miami (FL) in the 2018 NFL Draft, Herndon surprised many onlookers his rookie campaign while catching 39 passes for 502 yards with 4 TDs. Then the following February, at the NFL Combine, then new Jets head coach Adam Gase remarked that Herndon was a "unicorn-type" player who was very good in three facets: receiving and blocking both in the run and pass games.
The immediate future appeared bright, but it was not to be. Herndon missed the season's first four games for violating the NFL's policy and program on substances of abuse and then he missed an additional four contests with a hamstring injury. He came back and caught a pass against the Giants in November but then landed on an injured reserve with a fractured rib.
"It was tough. It didn't go exactly as planned especially coming off suspension, but it was definitely a big learning year for me," said the 6'4", 253-pound Herndon. "It was kind of a chance to step back and watch from the outside and make me appreciate [the game] even more. That was just a quick view of how fast it can be taken from me. It wasn't the best year, but I definitely learned a lot and grew from it as well."
While Herndon and his teammates have started camp, it is not a routine summer across the NFL. The Jets are getting regularly tested for COVID-19 and their summer has commenced with an acclimation period that is focused on strength & conditioning. Next week, the Green & White are scheduled to hit the practice field for non-padded workouts and there will be no preseason games before the regular season opener at Buffalo on Sep. 13.
"As far as us, I feel like we're taking very good steps every day, making sure everybody is safe at the facility. Outside of the facility, holding ourselves accountable, making sure we're making the right decisions out of it as well because that's a major factor," Herndon said. "It's unfortunate what's going on right now, but if everybody can do what they have to do and continue to follow the protocol, I'm pretty confident. We have to see once we get out there as well because there's a lot of unknown."
What is known is Herndon can make the Jets offense significantly harder to defend. This could be a sneaky good tight end group led by Herndon and Ryan Griffin, a 6'6", 250-pounder who last season had 320 yards receiving and 5 TDs. After essentially living in '11' personnel packages (1 RB, 1 TE, 3 WR), Adam Gase figures to have more options with multiple tight-end looks. Herndon showcased quality athleticism in 2018 and has the ability to stretch the field. Sam Darnold likes throwing to his tight ends and they say the unicorn's horns have the power to heal. The Jets' unicorn is on the mend and that could mean prosperity is around the corner.
"Just putting in a lot of work and seeing how fast it was taken away from me, I felt like I was doing the right things to come back from suspension ready and then I had a little fluke accident and then in my first game back getting injured," Herndon said. "It was definitely tough at first the first couple of weeks, just kind of accepting that my season was done and I couldn't be out there with my team. It really taught me how fast all of this can be taken and to not take it for granted. Just having an extreme amount of appreciation to be out there."