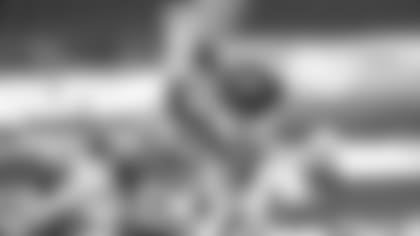 During one quick sideline pan late in the Jets' season, a small bright spot was captured.
There was Chris Herndon watching his defense with his offensive mates. And the tight end was smiling. Beaming, even.
Obviously, Herndon wasn't happy about the Green & White season overall, or his season overall. But the third-year tight end was in the middle of a revival of his importance as a receiver in the Jets offense over the second half of the campaign.
"It wasn't ultimately what I expected of myself, and I had a few hiccups at the beginning of the season," Herndon told newyorkjets.com's Ethan Greenberg on his way out of the Atlantic Health Training Center this week. "But I was able to just continue to lock in and just focus on each and every play, focus on being present and not thinking about the last play or the next play before it happens.
"And I was able to put some good film together toward the end."
The film over the first half of the year was not as good. He lost two fumbles, dropped several passes, and the only time he found the end zone was during pregame warmups. But beginning with Game 10 at the L.A. Chargers and really gearing up over the last quarter of the season, Herndon looked like his old self. He had bold TD grabs vs. the 'Bolts, Browns and Patriots. At New England he set a career mark with nine targets and equaled his career high with seven catches.
And an imperfect measure of a pass catcher's receiving line is to give him a rating based on the formula used for passer ratings. By that process, Herndon over the last seven games had a sparking 143.2 rating.
"Definitely, regardless of how the beginning of the season went, I was happy I was able to have a few flashes and get some momentum going into this offseason," he said. "It gives me chance to watch my own film this offseason, see what I did well, see what I didn't do so well at, and just focus on that."
This chart shows some key Herndon metrics during his 2018 rookie season and this past season broken down roughly in halves:
Table inside Article

| Year | Gms | Tgts | Recs | Yds | Avg | TD-I | Rate |
| --- | --- | --- | --- | --- | --- | --- | --- |
| 2018 | 1-16 | 55 | 39 | 502 | 12.9 | 4-2 | 108.3 |
| 2020 | 1-9 | 25 | 14 | 101 | 7.2 | 0-0 | 65.6 |
| 2020 | 10-16 | 21 | 17 | 186 | 10.9 | 3-0 | 143.2 |
Herndon is a conscientious fellow who was bothered by his 2020 start in the forest but put his head down and chopped wood. He built a new foundation and wants to take it with him into the offseason so he can have a better season four than he did a season two, which he lost to suspension and injuries.
"When we found out we were having a season, that puts things in a whole different perspective," he said of the season's everpresent COVID complications. "You have to get your mind right every day, come in every day and kind of put aside what's going on and focus on ball for the moment.
"I was able to do that pretty well with just my fight and my ability to continue to keep going, to push through."