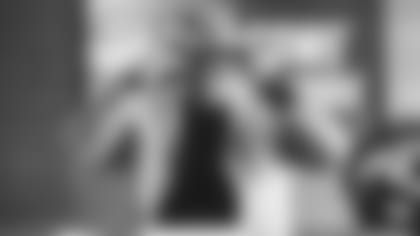 It is now official -- the Jets have added another guy to their roster who goes by the initials C.J.
C.J. Uzomah, whose given name is Christopher James, joins linebacker C.J. Mosley on the Jets' All-Initial team. More importantly, the tight end signed in free agency from Cincinnati has the potential to give the team a bona fide pass-catching, run-blocking presence at the position and provide quarterback Zach Wilson with another tantalizing target.
"I feel like we have something special here that we're going to be able to achieve," Uzomah, 29, said on Thursday during his introductory conference call with the news media.
After helping the Bengals advance to the Super Bowl last month, why the Jets?
"I think the coaches and the players, I think getting to talk to Michael Carter, the coaching staff and seeing how they want to run the offense, honestly it's a culture thing," he said. "I can see what the coaches are trying to do. The young players are eager, fighting their butts off week in and out. There's a lot of talent, and I bring a veteran presence to lead the way and narrow the focus.
"We're going to blow the doors off it. I'm eager to get together there and to talk to some of the guys and to get after it."
Last season Uzomah (6-6, 265) had career highs with 49 receptions for 493 yards and 5 TDs in his seventh and final season in Cincinnati. In his career he has 163 receptions for 1,591 yards and 13 TDs. After a collegiate career at Auburn, he was selected by the Bengals in the fifth round (No. 157 overall) in the 2015 NFL Draft.
The free-agent market for tight ends evolved quickly over the past week with Miami applying the franchise tag to Mike Gesicki, Dallas doing the same with Dalton Schultz and Cleveland with David Njoku, and Evan Engram signing with Jacksonville. After signing Uzomah, the Green & White struck again with the signing of Tyler Conklin (6-3, 248), who is coming off a career year with the Vikings in the 2021 season in catches (61), yards (593) and touchdowns (3). They join what is now a tight ends room that includes Ryan Griffin, Trevon Wesco and Kenny Yeboah.
Uzomah had a brief meeting with HC Robert Saleh and they were planning to chat again on Thursday.
"It was let's get this thing going," he said. "I think we're close. I think we're going to surprise people this year. We're both excited, I can tell his passion is just as great as mine. We want to be successful and win, give New York something to cheer for and cheer about. It was a good conversation."
Uzomah gives Wilson another option in the passing game, in addition to WRs Corey Davis, Elijah Moore and the recently re-signed Braxton Berrios. All this before the draft in which the Jets have two picks (No. 4 and No. 10) in the first round.
"We exchanged texts here and there," Uzomah said, referring to Wilson. "We're going to meet up. My offseason place is in Nashville and he's there now throwing with Corey. We're going to throw and talk. He's a great talent, a rookie last year who's going to make huge strides. I hope I can be a crutch for him, a security blanket on the field. He's an incredible talent and is just going to grow."
During his video call, Uzomah made few attempts to couch his excitement about joining the Green & White for the 2022 NFL season.
"I think first of all they [the fans] are going to get all of me," he said. "I'm unapologetically myself, saying a lot of stuff and doing a lot of things. As a player, I'm going 100 percent. It doesn't matter what is going on with me. When I step on the field, I am at 100 percent. There's a switch [that turns on]. The Jets are getting someone who's going to be a force blocking and getting the ball in my hands. I don't like being tackled, if I catch a ball on a 5-yard route I want to go the distance. I'm someone who's one of the best tight ends in the league. That's what they're getting."
Before the Super Bowl, a loss to the Rams, Uzomah was asked what he planned to do if the Bengals were the winners. His response? He said that he would soak in a tub of Cincinnati-style chili.
"You put it in a swimming pool, I'll dive in there and eat my way out," Uzomah said in early February.
He was asked the same question about his plans if he should find himself in the same spot with the Jets.
"I'm not sure," he said. "Maybe I'm going to dress up, maybe like [Alexander] Hamilton and walk down the street. I'm a musical guy. As for bathing, I'm going to stick to a bubble bath."