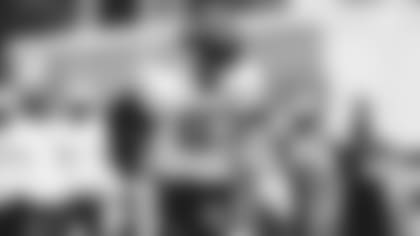 For Jets tight end C.J. Uzomah, it's all about the vibe. And the vibe is awesome.
"The vibes are up, the vibes are high," Uzomah said. "We're flying high right now at 1 Jets Drive. I know what we have in the locker room. Names and names on paper, but we have to go out and perform. Lay it brick by brick. I'm out there having a good time, it's competitive. I'm having fun out there with the boys."
After the completion of OTAs last week at the Atlantic Health Jets Training Center, the fun will soon be over. Coach Robert Saleh canceled mandatory minicamp, opting instead to allow his players to work on "Phase Me" for the next few weeks before the start of training camp in mid-July.
"There have been a lot of changing faces, new guy [QB Aaron Rodgers] in the huddle, new guy at the helm leading us," Uzomah told team reporter Ethan Greenberg. "We've simplified a lot of things in terms of verbiage. That has helped a lot and we're just flying around with a little more juice to us than last year. We understand how to practice, get in position to make plays on defense and get the right reads on offense. It's not night and day, but we're on the right track, taking positive steps."
Uzomah, who signed in free agency last year after seven seasons with the Bengals, is part of a crowded TEs room. Back for his second season, Tyler Conlkin (also signed in free agency last year), is coming off a strong season in which he played in all 17 games and was second on the team in receptions (58), yards (552) and TDs (3) to Garrett Wilson (the league's Offensive Rookie of the Year). More is expected from second-year man Jeremy Ruckert. The freakish Zack Kuntz (6-8, 251) was one of GM Joe Douglas' "value picks" in Round 7 of the NFL Draft in April. Kenny Yeboah is also back, fighting for a roster spot.
"There's a lot of versatility," tight ends coach Ron Middleton said. "These guys are made of the right stuff. Inside they're professional, they want to be good, they want to be great. They're all about the team and maybe they'll be asked to pass protect a little more now. I don't see them complaining, or not much. It's going to be team first. It starts with that, that's one of the prerequisites for the guys we bring in, not only in the tight ends' room. Saleh wants team guys, if we get that we definitely have a chance to build."
Uzomah chimed in on his two young teammates: "Ruck showed flashes last year in the last game. He put somebody on his butt and kept it going. That moment carried over on the first day of practice. We're expecting a lot out of him, I knew he would be a good player. Zack is big. Once he gets his legs going, he's going to fly up the field. He's going to be a good player as well. He's a big body."
While, as Middleton said, the tight ends will always be called on to block, Uzomah is well-versed in Rodgers' ability to run though his options, and a QB often has an affinity for finding his TE rolling up the seam on a smaller defender.
"He's a health freak in what he puts into body," Uzomah said of Rodgers "He's very conscious about how he treats his body, to play as long as he has you have to be. He's older [39] than I am [30] by a significant margin. We've also brought in Allen [Lazard] in the wide receivers room, and then I've seen them going to the city to hang out. Camaraderie is huge. The more time you spend with your brothers, the better you're doing to play on the field."
With a new QB and also a new OC in Nathaniel Hackett, Uzomah said that everything is on the table.
"We do everything, I think that's our [TEs] role in every offense," Uzomah said. "I'm biased in that sense. Just put guys in the right position, we'll be that safety blanket, make some flashy plays, blocking our butts off. It's a lot, but there's nothing we can't do.
"My expectations personally every year are the same -- get better, learn more about the game. I've learned a lot already under Aaron and Hack. I'll do whatever I can for the team. If that means catching 20 touchdowns or 2 or blocking for the running backs, then that's that. Whatever role, I'll do it to the best of my ability. For the team, the goal is the same -- win the division and the Super Bowl. That's what I'm hungry for. The outside noise is about making the playoffs. I don't care about the playoffs, I care about going to the Super Bowl and winning."