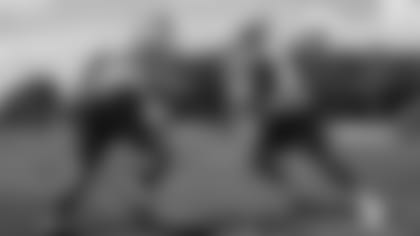 Following Sunday's practice, Jets head coach Todd Bowles said the tight end spot will "probably be the toughest to evaluate because all five can play," something tight ends coach Jimmie Johnson echoed earlier this month.
"I'm excited about the entire group between Neal Sterling, Chris [Herndon], Jordan [Leggett], Clive [Walford] and Eric Tomlinson," Johnson said. "All those guys are competing, doing a great job."
Entering training camp, questions surrounded the group comprises a mix of 2017 and 2018 draft picks (Leggett and Herndon), 2016 and 2017 mid-season signings (Tomlinson and Sterling) and an offseason waiver claim (Walford). Almost a month later, the narrative has shifted to who will be the odd man or men out come September 1st.
"The unit is great. The most important thing about the group is that nobody is negative," Walford said. "When someone else makes a play, we always congratulate the other one and pick the other one up. It's a friendly competition although our livelihoods are on the line. We're all just trying to get better."
Walford and Herndon overlapped at the University of Miami for one year (2014) before joining forces again with the Green & White. Walford said the fourth-round pick has gotten "way better" since college and is looking like a professional.
"The way he carries himself on the field, making his blocks, knowing his assignments, running with speed and catching the ball — he's doing everything a tight end is asked to do," Walford said. "And then he's playing special teams. You don't really see him making any mental errors."
Herndon has flashed in practice but hasn't played in a game yet. However, Bowles said the rookie will make his preseason debut against the Giants Friday night and the 22-year-old has been practicing "very well."
"You have to stay on your A-game every day," Herndon said. "You have to take notes and use the veterans as a person to lean on. If I ever need help, they're quick to help me and I can help them too. I'm learning kind of quick as well. I just say stay on your A-game and come ready every day."
Barring anything unforeseen, Friday will mark the first time all five tight ends will be healthy in preseason action. Leggett, who has strung together a couple of nice practices, played against the Redskins last Thursday but didn't register any catches. Sterling has stood out in a couple of practices, but he missed Week 2 with an ankle injury he suffered in the preseason opener, where he tallied four catches for 38 yards.
Last but not least, there's Tomlinson, who carved a nice niche for himself last year as a good blocker with overlooked receiving abilities. The 6'6", 263-pounder started 12 games for the Green & White and caught eight balls for 121 yards and one score.
"We work on all of them being a complete guy, but Tomlinson played well for us last year," Bowles said. "He's kind of our rock and he's solid this year. He's really our unsung 'Steady Eddie' guy."