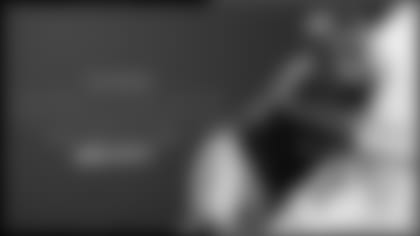 The Jets stayed anchored with their third overall selection in tonight's Round 1 of the NFL Draft and selected Alabama defensive tackle Quinnen Williams, the player who many draft analysts said is the best athlete available at the top of this year's draft.
Word of the Jets' choice came after Arizona chose Oklahoma QB Kyler Murray with the top pick of the draft and San Francisco followed with the selection of Ohio State edge rusher Nick Bosa at No. 2.
Williams, dressed in all gray down to his dress shoes — but with a mostly (Gotham?) green lining to his jacket — told ESPN's Suzy Kolber about being drafted third, "It's just amazing, man. I'm ready to work now, man."
About joining coordinator Gregg Williams' defensive line along with, among others, fifth-year DL Leonard Williams, who shared a predraft workout facility with him, Quinnen said, "I know Leonard a lot, so to get in there with him, with somebody I already have a connection with and learn from him, we're going to get work done."
Williams (6'3", 303) is the consensus All-America and Outland Trophy winner who finished eighth in the 2018 Heisman Trophy balltoing. He played two seasons for the Crimson Tide and wreaked havoc on the inside against SEC offenses. Last season alone he totaled eight sacks, 19.5 tackles for loss and 71 tackles in 15 games. For his 'Bama career he had 10 sacks and 26 TFLs in 24 games.
"The main thing I think that makes me unique and set myself apart from others is I can play all five positions along the defensive line," Williams told Jets 360's Olivia Landis in Nashville before the draft kicked off. "I showed on my film that I can play all five positions and I showed on my film that I can be elite at all five positions. ... I'll be able to play 1-2-3, first down through third down. And I'm a great pass rusher. I'm great with my hands and great at run stop.
"I have a lot of things to work on getting onto an NFL team. Being with guys who did it a long time and things like that, I should be great at it."
Among the analysts who love Williams' game is Chuck Smith, the nine-year NFL veteran and current pass-rush guru who spent the 2009 season with the Jets as a consultant. "Quinnen is the new-school next generation of pass-rush D-linemen," he told ESPN.com. "He is the new breed of hybrid that can do it all."
Williams is the 11th player drafted all-time by the Jets out of Alabama and the fifth Tide player taken in Round 1, following in the steps of QBs Joe Namath in 1965 and Richard Todd in '76, DE Marty Lyons in '79 and CB Dee Milliner in 2013.