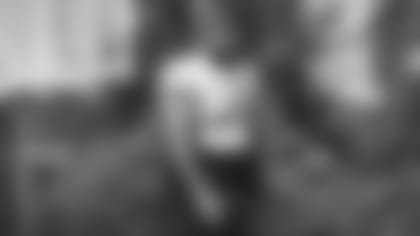 Entering his 17th NFL season and after offseason shoulder surgery, Jets tackle Duane Brown isn't slowing down.
"Still got plenty left," he said. "I still feel like I played a high level. I want to get as healthy as possible. Obviously, last year I was playing way less than 100 percent, so I want to get healthy and be able to play at the level I'm accustomed to and with the team we have, this is a great shot to win. I've done everything you could probably ask for individually in my career, but I want to win and I want to be the best version of myself to contribute to that."
Brown, a first-team All-Pro and five-time Pro Bowler, started 12 games for the Green & White last season -- all with a torn rotator cuff. He signed with the team last August and hurt his shoulder in practice the week leading up the season opener. He missed the first four games and played 100% of the snaps in his first 11 games.
"It was very challenging," he said. "Torn rotator cuff is not an easy thing to play on. I don't know anyone that's played on it, especially 12 games, so I was just very limited in that arm and I had to adjust my game to try to be effective and not be a liability. I was like, 'If I feel like a liability, then I'm not going to be out there.' But I felt like I produced. It wasn't who I am, but I felt like I produced pretty good, so surgery went great."
Brown is happy with his recovery progress but didn't put a timeline on his return to the field. He's been off to the side during OTAs rehabbing. When he suits up, he'll help protect the only player on the roster with more tenure in the league than Brown -- QB Aaron Rodgers.
"I've been around some really good quarterbacks, but just the command that he has of everything is different and it's great to see," Brown said. "I know all the throws he can make. It just looks effortless. I've just had conversations with him about things. He has a winner's mentality, so it's been great."
Brown was the winner of the team's first Selfless Warrior Award in 2022, playing through his injury despite his guaranteed contract. He then decided to play this season before Rodgers announced his intent to play for the Jets.
"Pressure is a privilege," he said. "I think we have a lot to build on last year. Obviously, we didn't finish the way we wanted to, but we showed a lot of promise, a lot of potential. We were disappointed with how it ended, but we were very excited for what we could build on. We got better this offseason and obviously we love the expectations."
Last year's offensive line was bitten by the injury bug – badly. The Jets had nine different starting combinations. With Brown, Mekhi Becton and Alijah Vera-Tucker on the mend, Brown sees a lot of potential in this year's unit.
"We have a lot of talent," he said. "A lot of young guys with a lot of ability, some good veteran leadership. Coach (Keith) Carter is really good with his attention to detail on technique and things like that, so I think the sky's the limit."