Prior to departing for their final preseason game at Philadelphia, the New York Jets made a pit stop at Cipriani Wall Street this morning to participate in their annual kickoff luncheon.
Guests first entered the event around 11:15 a.m. while popular hits from musical artists AC/DC, Black Eyed Peas, Bon Jovi and Bruce Springsteen played in the background. The venue featured two large projection screens that displayed lists of Jets patrons, sponsors and contributors. There were also personalized messages flashing on the screens before things kicked off. One read, "Go Jets!" from Michael Douglas and Catherine Zeta Jones.
The program began close to noon with master of ceremonies Bob Wischusen providing opening remarks. Wischusen introduced the Jets coaching staff, players and new Hall of Fame enshrinee Curtis Martin to the large crowd in attendance. The lunch was honoring Martin, who made his mark in Canton early this month.
Once the players had taken their seats, a 60-second welcome video from owner Woody Johnson was shown.
"This is a very important day for the team and for the Alliance for Lupus Research," Johnson said of the event, which benefits the ALR and the New York Jets Foundation. "Our motto is to prevent, treat or cure lupus."
Wischusen noted that 100 percent of the donations to the ALR go toward groundbreaking research, which helps the 1.5 million Americans and at least 5 million people worldwide who are affected by Lupus.
Several members of the Jets Flight Crew also were at the luncheon this morning. Their role included going around to tables selling $100 raffle tickets that offered a chance at a seven-day yacht cruise to either Greece or the Rivers of West Africa.
Former Jets alumni Fred Baxter, Richard Caster, John Dockery, Bruce Harper, Joe Klecko, Jim McKinstry and Damien Woody were in attendance at the event.
Then, head coach Rex Ryan along with players Eric Smith, Bart Scott and Dustin Keller each made brief remarks to the audience.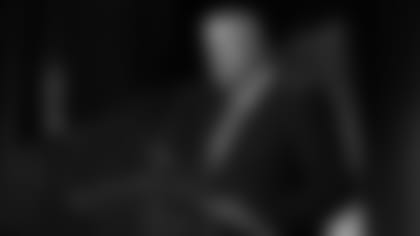 "In my opinion, this is the best team that I've had since I've been the head coach with the Jets," Ryan said. "And that's based on the fact that I'm out there every day with these guys. I'm with this tremendous coaching staff and these players."
Smith spoke on behalf of the special teams unit, saying, "We've got one of the best special teams coaches in Mike Westhoff."
Scott informed the crowd that the Jets defense would be ferocious this season.
"I think what you guys can expect from the defense is what you always get," Scott said. "That's to be relentless and play with a lot of passion, a lot of emotion. I've been a part of a lot of great units during my tenure in the NFL and I think this unit has the opportunity to be one of the best that I've ever been on."
Keller mentioned that the offense is still progressing under new offensive coordinator Tony Sparano, but added that they should not be taken lightly.
"We will be an explosive offense," Keller said. "We're going to be very successful and we want to step our game up. Obviously we have a great defense, but we also want to be known as a good offense and we will be."
The last item on the agenda before the team exited was a live auction that had a starting price of $10,000. The prize for the top bid was to witness Curtis Martin's jersey retirement presentation from the sidelines of the Sept. 9 season opener against Buffalo. The auction ended with a closing price of $30,000, which drew roars from everyone inside Cipriani.
Jets general manger Mike Tannenbaum; team president Neil Glat; luncheon co-chair Paul Tudor Jones, CEO of Tudor Investment Corp.; and ALR president Ken Farber all were in attendance.