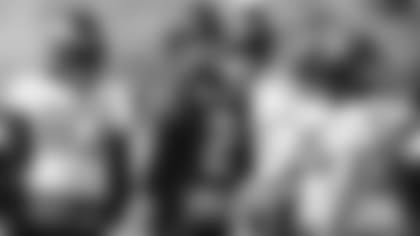 The AFC North portion of the Jets' 2022 schedule comes to an end at Pittsburgh on Sunday, and the Green & White omens for the game are both good and bad.
Good because Zach Wilson is set to make his NFL "sophomore season" debut after rehabbing his right knee for a month and a half. Wilson's eager to get the offense on track and help his team return to .500 at 2-2 before they head home for their first AFC East matchup of the year against the resurgent Dolphins at MetLife Stadium next week.
Not so good because the Jets haven't fared well in the Steel City. From their first meeting in Pittsburgh in 1970 through their most recent in 2016, they have dropped 10 of 11, including playoff losses after the '04 and '10 seasons.
Will the Green & White, with Wilson at the helm, ride to sweet victory or succumb to the home team that plays with a steel edge when this rivalry comes to Pittsburgh? Here are four areas of interest for Sunday's game.
Zach's-Back Attack
Wilson's got a lot to keep in mind for his season debut to be successful. He wants to get WRs Elijah Moore and Corey Davis going, keep rookie WR Garrett Wilson going, spread the ball to Tyler Conklin and the tight ends as well as Michael Carter and rookie Breece Hall coming out of the backfield.
But he's also got to focus on getting the ball out of his hands quickly or the Steelers' pass rush led by ROLB Alex Highsmith until T.J. Watt returns from injury, could swarm the pocket. Some of that two-minute-drill magic displayed by Joe Flacco and the wideouts at Cleveland would be handy. And Wilson's got to continue his improvements from last season's second half in not turning the ball over (he enters this game with 156 consecutive pass attempts without throwing an INT.)
It's a lot to put on a young man's plate in his first game back in armor and under center in seven weeks, but as Zach has said, "This is the NFL. The expectation is to make things work with little reps and little looks at things. It's part of the deal."
Tackling a Tough Situation
With George Fant going on Injured Reserve, the Jets are now looking at their third left tackle of the young season. One of those three has yet to play in Duane Brown, who could come off short-term IR as soon as Miami. Conor McDermott finished up the Bengals game at LT for Fant and started two games for the Jets at LT last season. Cedric Ogbuehi was just signed off Houston's practice squad — he's started 30 NFL games, about half at LT. Mike Remmers was just signed to the Jets PS — he has 96 pro starts, a season's worth in 2016 at LT.
Who starts Sunday? Hard to say, but what's easy to say is the Jets need stability at that important position. Still, Wilson declined this week to sing the blues. "I'm not concerned at all," he said. "We've got some great players up front. Those guys are going to do their best. It's just one more opportunity for someone to keep stepping up. Whatever positions guys are at, I'm excited for this next week."
Defense's Game Plan
Pitt's offense has struggled to hold onto the ball, converting exactly one-third of its third-down situations, the 33% tied for 24th in the NFL, and holding the ball for a league-low 24:10 of possession time each game. For the Jets defense, which saw Cincinnati convert half of its third downs, including all three Joe Burrow touchdown passes, this is an opportunity for redemption, not to mention one of the Jets' keys to their second road win this season.
It will start with C.J. Mosley — on an early pace for a 170-tackle season — and the run defense sitting hard on RB Najee Harris, who as a rookie last season amassed 1,200 rushing yards and 74 receptions but is averaging a tame 3.8 yards/carry for his career. Then the pass rush will attempt to harass QB Mitch Trubisky into sacks and mistakes and 3-and-out series (the Steelers are last in the league with an unofficial 3-and-out drive rate of 32.4%) and give the ball back to the Wilson offense.
Importance of 2-2 vs. 1-3
Regardless of the history between the sides, the Jets and Steelers are in the same boat regarding their records this season. The winners improve to 2-2, the losers drop to 1-3. How big a difference is that? Big enough.
In the previous five seasons from 2017-21, NFL teams improved to 2-2 with victories 24 times. Their combined winning percentage for their full seasons: .472. The percentage of those 2-2 teams that made the playoffs: 33% (8 of 24).
In that same span, teams fell to 1-3 with losses 21 times. Their combined final winning percentage: .396. Percentage of playoff teams: 19% (4 of 21).
Several outliers went against these trends, and the 17-game schedule in 2021 skews things a little. But the trends are clear. The 2-2 teams on average would finish at 8-9 and at least have a shot at a wild-card berth, while the 1-3 teams are headed to the neighborhood of 6-10-1.
See the top practice images leading up to the Week 4 matchup against the Steelers.