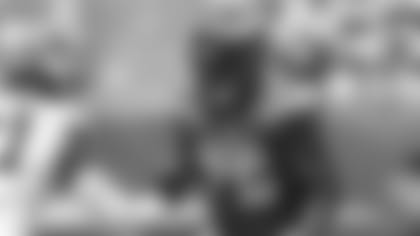 The Jets starting offensive line had a less-than-ideal four days of practice together to develop chemistry before the preseason finale against the Giants last Sunday. The front played 21 snaps and showed some disconnect, but also potential with more practice time.
"You can see that we're just a little out of sync with the offensive line," head coach Robert Saleh said. "In terms of the run game and our running backs hitting the hole the way they needed to. That part has to be better. Overall, this was a necessary evil to get these guys out on the football field so that they can play together."
All five starters took their first live reps at practice last Wednesday. LT Duane Brown set up alongside LG Laken Tomlinson, C Connor McGovern, RG Alijah Vera-Tucker and RT George Fant.
"I think it awesome being out there working with those guys," Tomlinson said. "Great group of guys. I am excited about what we can do for this team."
Against the Giants, they did not allow a sack of Joe Flacco, but the backs ran for just 2.6 yards a carry.
"Obviously, there are things we can work on and fix together," Tomlinson said. "But I liked what I saw out there and I am excited to keep growing with these guys."
The run game was not without positive plays. The front showed impressive burst and power off the line. On a handoff to Breece Hall, the Jets' Line pushed the Giants' D-line to the left of the right hash mark, allowing Hall to move into the second level, pick up 11 yards and a first down. The drive ended with a 49-yard Greg Zuerlein field goal.
Asked about what he liked about the performance, Tomlinson said: "Physicality and speed off the ball. We were rolling."
The addition of Brown has the potential to enhance the chemistry across the offensive line. The five-time Pro Bowler's 15 years of experience and knowledge have helped the O-Line.
"Duane has that experience that just makes everything so much easier working with him," Tomlinson said. "For us to visualize the play together, I can just talk to him, and we can get that rep mentally versus having to go out there in work."
Sunday's game was the jumping-off point and gave the group film to work off. With less than two weeks before the season-opener against Baltimore, the O-Line now has reasonable time to get in harmony.
"I think it was a good game to go out there and feel what it's like to be in a live NFL game," Flacco said about the line. "No matter what the situation is and being able to now have some film to watch and critique ourselves and see what we can do better to live up to what we want to be."