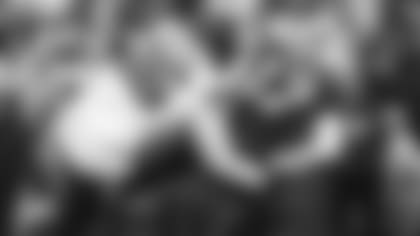 In the midst of a career season, Jets DT Quinnen Williams was perhaps on his way to having a career game Sunday against the Bills in Orchard Park. N.Y. Williams racked up his personnel-best 10th and 11th sacks in the opening half, but was forced from the game in the second quarter with a left calf injury.
Williams was moving laterally in pursuit of Josh Allen midway through the second stanza and went down untouched. After Allen completed a 5-yard pass to TE Dawson Knox, Williams was looked at by the training staff and eventually headed to the locker room with a noticeable limp.
Williams was unblockable early in this second matchup this season between the clubs. He reached the double-digit sack plateau for the first time in his career midway through the first quarter, corralling Allen for a 2-yard loss on third-and-long.
On the final play of the first quarter, edge rusher Bryce Huff exploded off the edge and forced Allen to step up. Williams was there for the takedown, collecting sack No. 11.
Williams became the first Jets DT since Dennis Byrd in 1990 (13 sacks) to amass 10 sacks in a season. In 6 quarters vs. the Bills this season, Williams totaled 3 sacks, 3 QB hits and 3 TFLs. Early in the third quarter, the Jets ruled out the fourth-year DT out for the duration of the game.
"What I got right now is day-to-day from the trainers," HC Robert Saleh said of Williams' availability after the game. "They feel he has a chance to make it this week (vs. the Lions)."
In addition to the Williams, CB Brandin Echols (quad), WR Corey Davis (concussion protocol) and LB Marcell Harris (ankle) also sustained injuries. QB Mike White (rib) was sent to the hospital for precautionary reasons before the team departed back for New Jersey.