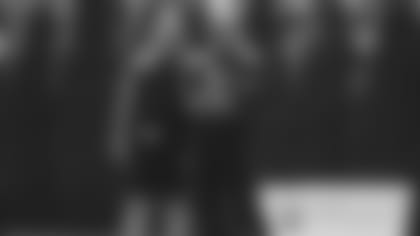 The Jets are gearing up for joint practices (and then preseason games) against the Atlanta Falcons and the Giants. After a number of intrasquad squabbles during training camp, head coach Robert Saleh and his assistants agree their players are champing at the bit to face guys in "different colors."
That sentiment extends all the way to special teams coordinator Brant Boyer, who joined the Green & White in 2016 and is the team's longest-serving coach.
"I think it's going to be huge because you get to see them against other guys and just like all these preseason games, they're just practices against other people," Boyer said about Friday's and Saturday's practices with the Falcons, ahead of Monday night's game at MetLife Stadium. "You get used to working with each other and everybody knows each other's moves and stuff like that, but once you get into other guys that you haven't studied before like you can't pull out tape and watch these guys when you're practicing against them, you really see what your skill set is and where your eyes are and things like that and stuff that gets you in trouble and it'll be a good gauge where we're at on all phases to see how we stack up against these guys. They have a lot of talent."
Each season, Boyer finds himself in a unique position as he cobbles together his special teams from "any three, four, five receiver," "any three, four, five running back, safety, corner, any of them, they all have to contribute because you only have such a little number of guys on gameday." And that list, of course, includes rookies.
"What's really good about this whole entire draft class, they've came in and bought into anything we've asked them to do and Jermaine [Johnson] specifically, he's getting better every day," Boyer said. "He's working his butt off, and he'll do anything I ask him. That just shows you a testament of how he works and everything and how he's blocking out there is from him paying attention in meetings and his willingness to do it is good to see. That's what a team does and it's not about a bunch of individuals, it's about the team."
One guy Boyer has been able to count on is Justin Hardee, who is listed as a cornerback, but who has made his biggest impact playing on kickoff and punt teams, first with New Orleans and now with the Jets. In the 2021 NFL season, Hardee, signed in free agency, took a single snap on defense, but took 368 (84%) of the snaps on special teams. Hardee is a specialist on special teams.
"From my perspective, he has one kickoff, he makes one tackle," Boyer said. "He has one punt, he's in front or standing in front of the returner to force a fair catch, so for me a guy like that I think he's top five in this league, I do. I think he's a Pro Bowler in my opinion, he does a really good job for us. He takes a leadership role in the room, so he has done a heck of a job and done everything we asked him to do."
Being a "star" on special teams is a curious distinction in the NFL, where the "specials" are usually manned, as Boyer said, by rookies and reserve players who hurtle down the field at high speed on what can safely be called search-and-destroy missions. Hardee has perfected that craft and Boyer is clearly enamored of the 28-year-old "gunner" from Cleveland. What makes Hardee an impact player?
"Want to, want to," Boyer said. "That's what it all comes down to. Are you going to say that, that guy when I have a 40-yard head start, can I get singled by that guy? I tell my guys all the time, there's absolutely no way in hell a guy should be able to block you, when you have a 40-yard head start all the time.
"It's all that mindset that they have to have in that room. I continuously try to preach on that, teach that because that's what I believe in. If they're not doubling you, then something is wrong. You need to beat any single that you got and that's how we coach them and Hardee's one of those guys that has that right mindset, and he plays 150 miles an hour on every snap and never stops and things like that. Does he have some things to improve? Absolutely, just like we all do, but I think he has done a fantastic job in what we've asked him to do here since he has been here."