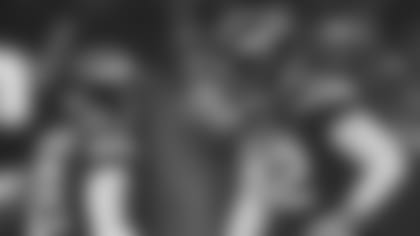 Table inside Article

| Player | GP/GS/DNP/IA | ST Snaps |
| --- | --- | --- |
| P Lachlan Edwards | 16/0/0/0 | 147 |
| LS Thomas Hennessy | 16/0/0/0 | 144 |
| K Sam Ficken | 15/0/0/0 | 117 |
| K Kaare Vedvik | 1/0/0/0 | 5 |
Not with team: Vedvik
Reserve/Future Signing: P Ian Berryman, K Brett Maher
Potential Free Agents in 2020
Unrestricted: Edwards
Exclusive Rights: Ficken
Looking Back
Special teams is more than the kicker, punter and long-snapper listed above. And coordinator Brant Boyer made it clear at the end of the year that he loved all his special dudes in 2019.
"I don't think I could be more proud of this unit," Boyer said. "We've had so many injuries this year, played so many guys, and to all their credit, to the people upstairs that have brought all these guys in, I think they've done a hell of a job with how hard they've played week in and week out. They've learned this new system, they're trying to do exactly what I'm trying to get done every week. They've come in and done a hell of a job and they fight every single week and to a man, it's been awesome."
Overall, this year's group didn't do as well in ST rankings such as Rick Gosselin's annual survey released in late January, going from first overall last season to eighth this year. But with all those injuries and the placekicking turnstile trying to replace Jason Myers and the unknowns at returner after Andre Roberts also left in free agency, being in the top 10 isn't bad at all.
And there were a number of top-five finishes for the Jets in specific areas, such as punt returns (2nd), kickoff coverage (3rd), opponent punting (3rd) and net punting (3rd) and points scored (tied for 2nd).
Braxton Berrios stood out on punt returns as the second-year man acquired on waivers from New England after final cuts led the NFL for several weeks down the stretch in yards/return. Pittsburgh's late-qualifying Diontae Johnson beat BB out (12.4 to 11.4) by getting enough returns to qualify on the final week of the regular season.
The Jets cover teams also excelled, in helping Lachlan Edwards set the franchise net punting average record for the third straight season (40.5 to 40.8 to 41.6), and in allowing opponents only 19.3 yards/kickoff return. he double-digit tacklers in Green & White kick coverage were Frankie Luvu (14), Harvey Langi (12) and Daniel Brown (11).
The Jets' teams also produced two touchdowns, off of Tarell Basham's blocked punt at Baltimore (B.J. Bello for the score) and off of Arthur Maulet's end zone muffed punt recovery at New England.
Looking Ahead
The Jets' footmen had their share of bad kicks and good. K Sam Ficken, who followed Chandler Catanzaro, Taylor Bertolet and Kaare Vedvik, held onto the placekicking job from Week 2 on. On the downside, Ficken missed seven of his 10 field goal tries from 48 yards and longer, plus three extra points. On the upside, he drilled three 50-plus-yarders and finished strong in his last two home games, with the walkoff winner in the 22-21 win over Miami and by going 3-for-3 in the 16-10 subduing of Pittsburgh.
Edwards, meanwhile, didn't improve his hangtime from the previous two seasons and still had too many 20-yard net kicks, yet his averages were solid (45.9-yard gross, 14th in the NFL, and 41.6 net, 12th). And he had the second-best inside-20-to-touchback ratio in franchise history, 9.3-to-1, trailing only Steve Weatherford's 10.5-to-1 in 2010.
It will be interesting to see who mans those jobs in 2020. Both the incumbents could win the jobs again, but only if they return — Edwards is eligible to become an unrestricted free agent and Ficken can be a restricted FA. And GM Joe Douglas has already signed competition for both to reserve/future deals — K Brett Maher, the former Cowboys kicker who started out with the Jets as a rookie camp tryout in 2013, and P Ian Berryman.
Boyer will no doubt lose some valuable contributors during the free agency period. But he also could get back services from the likes of Trenton Cannon, Albert McClellan, Blake Cashman, Ryan Griffin, Josh Bellamy and Rontez Miles (if he's re-signed, since he can become a UFA), all of whom finished the season on IR.