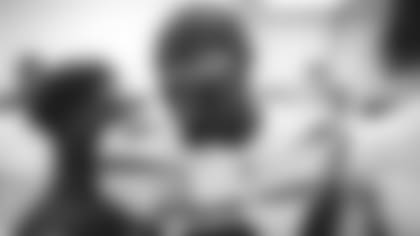 Prior to the Jets' 31-30 thrilling comeback win over the Browns on Sunday, Justin Hardee said he had driven past the Browns' stadium "a 1,000 times" while he was growing up about 15 minutes from the building nestled against Lake Erie.
"Man, it was unbelievable," Hardee told team reporter Eric Allen on this week's edition of "The Official Jets Podcast." "I wanted this ever since I found out we'd be playing the Browns. I've been dreaming of this day. I'm ecstatic. So happy. To do it against my hometown team is special."
With his father, high-school coach and about 100 other friends and family in attendance, Hardee did what Hardee expects to do as one of the most special of special-teamers in the NFL: He recovered the onside kick that gave the Jets a chance to author an improbably impossible comeback from 13 points down in the game's final two minutes, coming away with an incredible one-point victory.
"I grew up a Browns fan," Hardee said. "They still can win every game after this; I don't care unless we see them in the playoffs. It was special before family and friends to be able to be the hero and still the hometown hero. For them, it's a special moment they won't ever forget. My family really embraced me, they were happy and at the same time they were like, 'You did that to us, we're glad it was you.' They were surreal moments I won't ever forget. It was special to be home. I hadn't played at home since high school. I played at the stadium senior year — we didn't even win that game. To be able to win this one 10 years later tells me there must be a higher purpose. This is my moment."
He added: Rolling into the stadium, "I was smiling like wow. This is where I'm really from, where I grew up. Just wow, I made it through all this, from being from the inner city and just to see where I came from. I know how the city is about the Browns to see everyone out there and just being able to play in the game, even if I didn't make a play, just playing there would be special. Just how everything played out was crazy, this was the first game ever in my life that didn't feel like an away game."
Hardee entered the NFL in 2017, signed by Houston as an undrafted free agent wide receiver out of Illinois. He landed in New Orleans the next season, still listed as a WR, but giving a hint of what was to come in his career when he blocked a punt and returned it for a touchdown in a win against Tampa Bay. He was named the NFC Special Teams Player of the Week.
After four seasons with the Saints, the Jets gave special teams coordinator Brant Boyer a gift of sorts when they signed Hardee to a three-year free-agent contract. Listed on the roster as a "cornerback," Hardee has yet to take a snap on anything but special teams.
"Boyer challenged us to go out and do better [than in the Week 1 game against the Ravens]," Hardee said. "He challenges us every single week to stop returns, create explosives and some type of momentum. In the beginning of the game, that fake punt when Braden [Mann] hit Jeff Smith, we've been practicing that since last year. It was great to see, and we scored on that drive."
That TD drive came after the Jets went three-and-out to start the game before the Browns put together a 90-yard, 14-play drive that nearly consumed 9 minutes. It was Mann, the punter, who completed the 17-yard pass that led to QB Joe Flacco hitting rookie WR Garrett Wilson for his first NFL TD reception.
The talk on Sunday and Monday, however, was about that comeback. Falling behind by 30-17, Flacco brought the Jets back with his long TD pass to Corey Davis. The entire stadium and TV audience knew what was coming next: One of the least successful plays in the game of football -- the onside kick.
"I heard somewhere that there's like a 7 percent chance of getting [an] onside [kick] now with the new kickoff rules and you have to be perfect, the kick's got to be perfect, your execution on the front lines got to be perfect," head coach Robert Saleh said on Monday. "Then you need, on top of it, you need some lucky bounces." He added: " Credit to those guys that absolutely freaking executed it perfectly and we got the lucky bounce we needed and they fought for the ball, and Hardee came up with it."
But before Hardee could come up with it, Boyer, Hardee and Will Parks had a little chat.
"Boyer's telling guys like Will Parks to hit the guy with the ball and that's exactly what he did," Hardee said. "I was closest to the kicker on the left and knew I could get there with some speed. He [Parks] said 'I'll break us out, I'm going hit this ball back in, go get the ball.' He literally said that, 'Let's go home.' It's crazy it happened. I have to show my love and grace to my guys. I feel like I'm the one that gets all the love, but also to Braden -- he kicked a hell of a kick."
Hardee, the special teams captain, believes he's among a special group of teammates.
"We've got a lot of guys who want to win, whatever it takes," he said. "Guys from winning programs even in college. Guys are tired of getting disrespected, people saying Same Old Jets. It's time to put an end to it, and the only way is to win. It's not about some rah-rah speech. It's about going out each Sunday. Every Sunday is a battle. Just coming out with a dog mentality every single Sunday and trying to win. We're building toward something special, all we want is to give ourselves an opportunity."
He echoed Coach Saleh, who spoke Monday about "moving on" and not getting too high about a single victory early in the 2022 NFL season.
"I remember what [Saints DE] Cam Jordan used to say -- there's a 24-hour rule," Hardee said. "Enjoy it, enjoy the victory because they're rare in the NFL. Enjoy it for 24 hours, now it's on to the next opponent. One thing I love about the NFL is that next Sunday [vs. Cincinnati], you have another opportunity to showcase everything. I'm excited to go against Cincy. It's a war every Sunday."