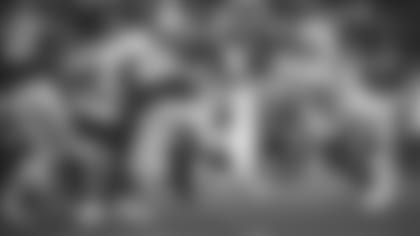 The Jets' special teams put together the strongest performance of their excellent season Sunday in Nashville. Jason Myers connected on five field goals and the Green & White also blocked two kicks in the same game for first time since 1988 and Andre Roberts also sprung free for a 59-yard kickoff return.
Myers was automatic all afternoon and became the franchise's first kicker to hit at least five field goals in a game twice in the same season. In Week 6, he went 7-for-7 against the Colts. Sunday, his 54-yard boot in the first quarter marked his sixth field goal of 50-plus yards in 2018. Myers, who set an NFL record last week against the Patriots with five made field goals of at least 55 yards in a season, accounted for two more three-pointers of 34 and 43 yards in the first half. He also added a pair of 39-yard kicks in the third quarter.
The Marist product has now made 93% of his kicks (28-of-30) this season and has been a weapon on kickoffs with 48 touchbacks.
"You just have to have a good mindset," he said. "I didn't necessarily hit the ball well in practice this week, but I just had to be confident going out there and if I make good contact and swing freely, I'll give myself a good shot. That's the mindset I've taken to it and it's been working."
Myers' 43-yard field goal that put the visitors up 16-0 came on the heels of a Kevin Pierre-Louis blocked punt. The reserve linebacker recovered the Green & White's first punt block since Antonio Allen in 2013 and put the Green & White in scoring position at the Tennessee 18-yard line.
"We're working hard in that room," Myers said. "I think we're close to the top in some stats in terms of special teams overall and I think that's our goal to finish out strong and get to that top spot. We take pride week in and week out to be that difference maker and try and get us over the hump."
Defensive lineman Henry Anderson also got in on the act, blocking a Ryan Succop extra point at the end of the first half. Anderson's rejection marked the club's first blocked PAT since Bryan Thomas got his hands on a Adam Vinatieri extra point in Indianapolis in 2009.
The special teams picked up right where they left off in the second half as Andre Roberts returned the opening kickoff 59 yards to the Titans' 42-yard line. Entering Sunday's game, Roberts ranked second in the NFL with 583 kickoff return yards and seventh with a 24.3 average.