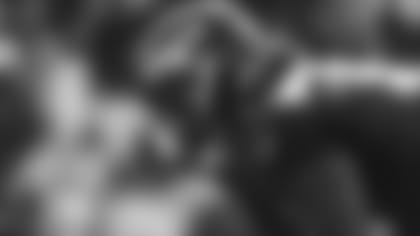 The accolades and expectations followed DL Quinnen Williams from the University of Alabama to the Jets after he was taken with the No. 3 overall selection in the 2019 NFL Draft. Along with a high draft number, Williams brought along a collection of trophies and silverware (Outland Trophy as a sophomore in 2018; All-SEC pick by the Associated Press; All-American selection by Walter Camp; and more) that seemed to weigh heavily on the promising and gregarious rookie.
"Of course people get drafted as high as I do want to do more," Williams said on Wednesday at the Atlantic Health Jets Training Center. "I didn't have a horrible season. I just didn't accomplish my goals. My coaches know I can do it. Guys around me push me. I had a group of guys around me during the offseason that helped me with my confidence and to get me back to the person I want to be."
Part of that preparation, Williams said, was a determination to improve his nutrition, which has enabled him to cleave away some body fat. He's leaner and a bit lighter, with a year in the NFL under his belt. His renewed commitment has not gone unnoticed by his teammates and Jets coaches.
"He's a great player, great personality off the field, a funny man," quarterback Sam Darnold said. "He's going to make plays, he's explosive, quick off the ball. My offensive line talks about how good he is. For him, it's all about doing little things right."
Early in training camp, the perception seems to be that Williams is poised for a breakout season among an evolving group on the Jets defensive line. Though he was limited to 13 games in 2019 (9 starts) with 28 tackles and 2.5 sacks, defensive line coach Andre Carter has been impressed by what he's seen of Williams so far.
"Since Day 1 [in camp] I saw him just in a better mentality, a better body, more confident," Carter said. "Obviously, a rookie who's a high draft pick there's expectations. But from a mental standpoint, he was overthinking and overreacting. He was overanalyzing, not playing fast. I think he's now realized what he has to do: line up and go. That's what I've been telling him the past six months. You are who you are. You have the skill set to be a difference maker and explode off the ball and wreck havoc. Being a difference maker is his mind-set and right how, he's a in a great frame of mind."
For his part, Williams said he feels transformed physically and in a better place mentally.
"At the end of the season, I saw the things I did wrong," Williams said. "I was kicking myself. I took some wrong steps last year." He added: "It was all on me. Right now, my confidence is through the roof. I'm reacting faster, getting off the ball faster. This year, I transformed everything I did -- diet, workout, endurance. I hit it full speed."
For any player drafted among the single-digit selections there come often oversized expectations that are hard for any human to live up to. What is often overlooked is that these are still developing young men thrust into competition with fully developed professionals. Fans carry those expectations to often unrealistic heights, which only ratchets up the pressure.
Coach Adam Gase said "I didn't see that from him. Expectations about being the third pick are irrelevant. Once you get here we don't care. We need everything you've got."
Gase added: "The biggest thing is we just keep looking for how disruptive he can be within the system. Make the opposing offensive linemen think about you. Once again, it's his second year in the system. He's already been through camp and knows what to expect. Everything is getting quicker. He's learning from the other guys in the room. Learning the shortcuts. The leadership in that room is important."
See the Best Photos from the Fifth Practice at Training Camp