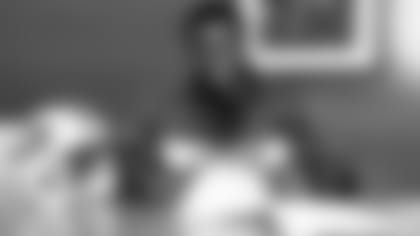 The Jets have signed wideout Quincy Enunwa to a multi-year extension.
"I knew when I got here that I wanted to be a Jet for a very long time," Enunwa said while he was signing his contract. "Now, I'll get my opportunity and it feels really good."
Enunwa returned to the lineup in 2018 and has totaled 38 receptions for 449 yards with one touchdown. He led the team in receiving yards on five occasions, setting season highs with seven grabs and 92 yards in a Week 2 contest vs. Miami.
"Quincy is a key part of our foundation, and we are thrilled that this contract will keep him here for years to come," GM Mike Maccagnan said.
A sixth-round pick out of Nebraska in the 2014 draft, Enunwa has appeared in 40 games with New York's AFC representative. The 6'2", 225-pounder, who will turn 27 on May 31st, has amassed 118 receptions, 1,621 receiving yards and five scores from 2014-18. Enunwa, a Moreno Valle, CA native who attended Nebraska, has had 69 of his catches (58%) go for first downs and has also registered 33 receptions of 20+yards.
"I'm excited for the future and for some more big plays," Enunwa said. "And I think there is a lot in store for us as a team."
Top Photos of the Jets WR, Who Inked a Multi-Year Extension on Thursday