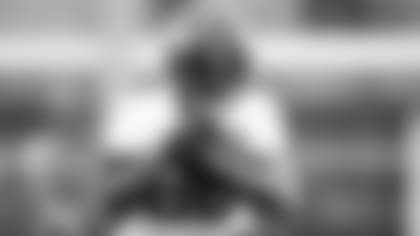 The Jets made a pair of practice squad transactions Tuesday. They signed WR Malik Taylor and released LB Caleb Johnson.
Taylor (6-1, 220) first signed to the Jets practice squad on Dec. 29 last season before he was signed a reserve/future deal in January. He battled injury in the preseason, but had a 56-yard reception against the Browns in the Hall of Fame game. Taylor played in 25 games for the Packers from 2020-21 and had 7 receptions, 80 yards and 1 touchdown. He originally signed with the Buccaneers as an undrafted free agent out of Ferris State, but spent five days with Tampa Bay before joining Green Bay.
Johnson (6-0, 235) signed with the Jets as an undrafted free agent in May out of Miami. He had 11 tackles and 2 special teams tackles in the preseason before he was waived and re-signed to the P-squad. Johnson began his collegiate career with Texas (one season in 2019), then moved to UCLA (he is a native of Murrieta, CA) before entering the transfer portal and landing with the Hurricanes for the 2022 season.