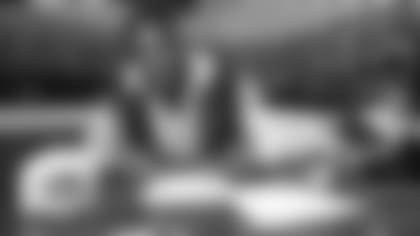 The Jets have signed cornerback Bless Austin, their sixth-round draft pick from Rutgers.
Austin (6'1", 198) is a New Yorker born and bred who played his high school ball at Campus Magnet in Queens before traveling across the Hudson to play at RU for all or parts of four seasons. Although he admitted he was a Giants fan growing up, he's all about making the switch to the green and white and staying close to home.
"It feels great to be on a New York team, a hometown team, to be able to represent and be close to home," he said. "It doesn't get any better than this at all."
Austin slipped into the sixth round because, after starting his first two seasons with the Scarlet Knights (18 pass defenses, two interceptions combined), he suffered two season-ending injuries to his knee that limited him to five games the last two seasons.
General manager Mike Maccagnan said Austin was "a kid our scouts and our coaches had done quite a bit of work on and liked. ... We thought he had a much higher ceiling than where we got him in the draft. .... We felt good about the risk."
Maccagnan said Austin isn't cleared to practice yet and "most likely" would start the season on the Physically Unable to Perform list.
"I wasn't really sure what teams would think about it because if you ask me, I would've said I'd be perfectly fine going into it," he said. "Based off of how I heal, I'm a freakish athlete, so when I get injuries like that, I'm not worried about how I heal, I know I'm going to come back 100 percent. But the fact that the Jets truly believed that and 100 percent believe in me, they're definitely going to get what they invested in."
Austin, taken 196th overall, is the fourth Rutgers player drafted all-time by the Jets and the first out of RU since flanker Jack Emmer in 1967. C Alex Kroll was the best-known Rutgers player drafted by the franchise, taken 13th overall in the 1962 AFL Draft and playing 14 games for the Titans of New York. The last Rutgers player to suit up in the regular season for the Jets was undrafted free agent LB Jamaal Westerman from 2009-11.