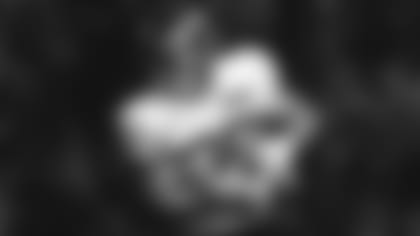 The Jets have signed running back Pete Guerriero and waived linebacker B.J. Bello and defensive lineman Sterling Johnson.
Guerriero (5-10, 190) re-joins the Jets roster after being released on Aug. 27. He signed with the Green & White on Aug. 25 as a UDFA out of Monmouth University, where he led all FCS backs with 1,995 rushing yards and 142.5 rush yards/game, was tied for sixth with 18 rush touchdowns and came in eighth in the subdivision with 6.69 yards/carry. His career total of 3,974 rush yards is fourth in the history of the Jersey Shore school while his 239 points is third.
Bello (6-3, 229) first signed with the Jets last October and played in 8 games for the Green & White in 2019. He's had stints with the Browns, Cardinals, Eagles, Texans and Packers since 2018 and has totaled 13 tackles in 27 games.
Johnson (6-4, 285) signed with the Jets as an undrafted free agent on May 6. He began his career at Clemson before he transferred to Coastal Carolina where he totaled 65 tackles, 15.5 tackles for loss and 6.5 sacks in 23 games over the past two seasons.